Hawthorne Sal's
Suddenly Salient
Smashing Stories
N

egli

Archivi

– Tre
---
sabato febbraio 27
Louisville Courier-Journal – Lintner -McLaughlin overcomes MS to train Derby favorite
Bloodhorse – Charlie McCarthy – Rooting for McLaughlin to Get His Derby
Sal heard there were numerous Charlie McCarthy sightings at the QKB's court on February 23, 2016.
---
Horse Race Insider – Pricci – Betting Gulfstream Saturday? Bring Money
---
TDN – Adolphson – First Lady of La. Racing Hits Derby Trail
---
TwinSpires Blog – Kellie Reilly picks the Fountain of Youth Stakes for Kentucky Derby Dream Bet
Brooklyn Backstretch – Brian's Derby Preps 2016: the Fountain of Youth
---
TDN – Jensen Possible for Louisiana Derby
---
TDN – Dutrow Adds One 'Mo' to Rebel Line Up
---
This is Horse Racing – Sean Clancy and Tom Law -Saturday Special – February 27
---
ESPN – DRF – Hovdey – Fitzgerald gets his chance
---
venerdi 26 febbraio
Chiaro come il fango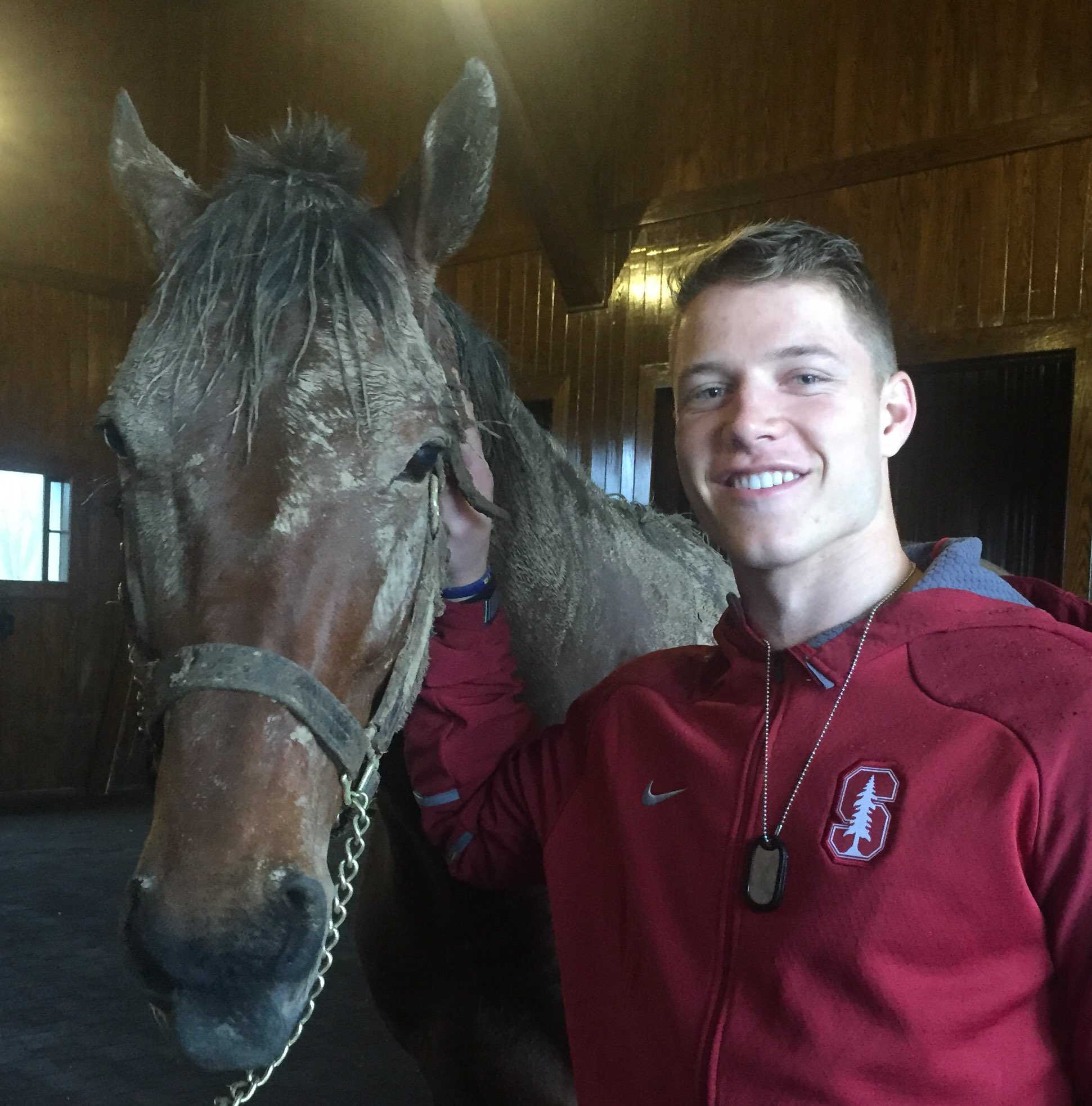 Louisville Courier-Journal – Lintner – Hornung Award winner meets American Pharoah
Louisville Courier-Journal – Sullivan – What can't Hornung Award winner do?
Give a horse a bath.
---
TDN – California Retools Riding Rules
---
Horse Race Insider – Jicha – Super over-used but it fits this Saturday
ESPN – DRF – Crist – Many courses on Park Gulfstream menu
---
Racing Post – Dietz – Chrome cut for World Cup after warm-up win
---
Bloodhorse – Johnson – Looking for Value in the Fountain of Youth
Sal's Zio Vito always said that if you're looking for value head to the supermarket and not the track.
---
ESPN – DRF – Privman – Mohaymen heads Fountain of Youth
---
LA Times – Horsey – Trump's simple message may carry him to the White House
---
Thoroughbred Racing Commentary – Crispe – Will this become the world's next great multi-million-dollar race meet?
---
TwinSpires Blog – Scully – Remembering the 1994 Fountain of Youth; Dehere edges Go for Gin as something goes amiss with Holy Bull
---
TDN – DeBernardis – Down the Shedrow with Brian Lynch
---
This Is Horse Racing – Here & There – February 25
---
giovedi 25 febbraio 2016
Sal was wondering where he could advertise for the next Dread Pirate Roberts.
If you know anyone looking to be the next Dread Pirate Roberts at www.holybull.ca please have them contact Sal at hs@holybull.ca.
---
Bloodhorse – Angst – Another Shining Victory for California Chrome
---
National Post – Barnaby – Simple Italian cuisine respects its ingredients: Classic dishes require some technique, and a lot of love
---
Bloodhorse – 'Jockeys and Jeans' Set for Feb. 28
---
Brooklyn Backstretch – Teresa – We're off! Kentucky Derby Charity League 2016 Launches Today
---
Racing Post – Milnes – Go directly to the stewards' room
---
Bloodhorse – Lewyn – Spendthrift: Breeders' 2016 Outlook Mixed
---
TwinSpires Blog – DeRosa – Venus Valentine Finally Gives Longtime Breeder an Answer
---
Instead of back stabbing their players by spouting off about their team's lack of performance during the post-game interview more coaches and managers need to take a pro-active approach.
---
Fra Noi – Onesti – Memories of Ol' Blue Eyes
---
TDN – Finley – TDN Derby Top 12 for Feb. 25
---
TwinSpires Blog – Scully – Mohaymen faces five in Fountain of Youth
Lady and the Track – Macatangay – Can Mohaymen Stay Undefeated in Fountain of Youth?
ESPN – DRF – Privman – Trainer McLaughlin playing the game on global scale
Bloodhorse – Balan –  Fountain of Youth Mohaymen's 'Toughest' Test
Sal's mish mash metaphor that should be attributed to Antonin Scalia – We have enough youth how about someone who drank from the fountain of smarts.
Bloodhorse – Pedulla – Cherry Wine to Miss Fountain of Youth
---
LA Times – Shalby – What you need to know about the search for Scalia's successor
Sal has a suggestion:
Want to help clear the American deficit start taking bets on who is nominated, whether or not they get confirmed, how long it takes to confirm and the final vote.
Sal says it's 9/5 that the nominee is a Protestant female from the Midwest.
---
Bloodhorse – Cathryn Sophia Heads Davona Dale
TwinSpires Blog – Hanson – Cathryn Sophia tops Davona Dale, X Y Jet set to sizzle in GP Sprint
ESPN – DRF – Jerardi – Cathryn Sophia tops Davona Dale at Gulfstream Park
---
Bloodhorse – Perfect Timing – by Eric Mitchell
---
Bloodhorse – Ron Mitchell -NY-Bred Moanin Sets Track Record in Japan
---
NY Times – Reevell – Russian Bobsled President's Saga Reflects Russian Sport Woes
Sal wonders how swimming with the fishes under the ice in Siberia feels.
---
This is Horse Racing – Sean Clancy – Goodbye Owner – Andre W. Brewster, 1925-2016
---
National Post – Does Christie Blatchford hate women? The 'nasty anti-feminist' columnist responds to readers
---
mercoledi 24 febbraio 2016
About the same time that Shirley McClellan was filling a room in Nisku with cazzate the MD of Rockyview was considering an amendment to the Bylaw for the Century Downs track.
The purpose of this Application is to amend Bylaw C-6234-2006 (DC-109) Appendix B by replacing the existing Race Track and Entertainment Centre Master Site Development Plan (MSDP) for Sub-Cell A-1, in order to facilitate the future development of two (2) additional barns, a barn lounge building, a jockey building, and expansion of the existing racino building.
…
A detailed estimation of water usage, sanitary analysis, as well as updates to the Stormwater Management Report / Plan will be required at the development permit stage. Off-site infrastructure requirements will also be identified in subsequent Traffic Impact Assessment updates at each Development Permit stage as per the County's Servicing Standards.
Sounds to Sal like there's molta strada da fare and fences to build before Century Downs in ready to race thoroughbreds.
---
Bloodhorse – Haskin – Derby Dozen – February 23, 2016 – Presented by Shadwell Farm
---
Thoroughbred Racing Commentary – Duckworth – Kentucky Derby hero War Emblem had to be gelded to stay in the U.S.
---
FiveThirtyEight – Libresco – Whomever Obama Picks May Not Meet Scalia's Definition Of Diversity
CNN – David Axelrod: A surprising request from Justice Scalia
---
Lady and the Track – Mendoza – Is the 2016 Kentucky Derby the Year of Tapit?
---
TwinSpires Blog – DeRosa – Fair Grounds, Birmingham Illustrate Changing Attitudes Toward Racing
---
LA Times – On interviewing Umberto Eco, 'the most erudite person on earth,' by Glen David Gold
---
Horse Race Insider – Pricci – Post Dragging, Jackpot Bets Symptomatic of the Times
---
Lady and the Track – Hammer – Rent the Races —Saving Horse Racing One Hat at a Time
---
Bloodhorse – Novak – Stevens Calls Audible During Mor Spirit Work
---
Bloodhorse – LaMarra – PA Racing 'Reform' Law Signed by Governor
---
TwinSpires – Blog – Reilly – California Chrome draws rail in Dubai World Cup prep
---
Bloodhorse – Ehalt – Legends: Davona Dale, Dominant Calumet Star
---
Lady and the Track – Smith – Cathryn Sophia Looks to Prove Authenticity in Davona Dale
ESPN – DRF – Welsch – Strong but small field for Davona Dale Stakes
---
martedi 23 febbraio 2016
Sal heard that the QKB will be seeking a RFP at her hurried and hushed meeting in Nisku today.
What Sal thinks the QKB will be seeking is a Request For Postponement of her imminent, inevitable and well deserved termination as CEO of HRA.
Sal heard that the group that is the most progressed in their plans for a new track in the Edmonton area will not submit a RFP to Horse Racing Alberta as long as the QKB and the CCW are still in their positions.
From what Sal sees in Phil's vault Phil was flapping his jaws about Northlands Park getting out of the horse racing business for over a year and now suddenly the QKB wakes up and starts looking for alternatives. Sal thinks it's a little late to be shutting the paddock gate after the horse has bolted. Chiudere la stalla quando i buoi sono fuggiti.
---
ESPN – DRF – Hogan – Baldelli breaks into breeding biz
---
Bloodhorse – Zulu, Awesome Speed Remain on Schedule
ESPN – DRF – Welsch – Zulu under the radar for Fountain of Youth Stakes
---
LA Times – Lien – Kalamazoo shooting: Here's how Uber does its background checks
---
Bloodhorse – MD Horse Industry to Meet; Study Planned
---
Lady and the Track – Laughter – Kentucky Oaks 2016 Top 10: Casey's Picks
---
Lady and the Track – Macatangay – Martin Discusses California Chrome, Dubai Prep
Thoroughbred Racing Commentary – The rivals out to get California Chrome in Dubai on Thursday
---
lunedi 22 febbraio 2016
Terribile Tragedia
Edmonton Journal – Sands – Owners vow to rebuild after fire rips through Edmonton's Italian Bakery
---
This is Horse Racing – Law –  Weekend Interview: Ralph Theroux
---
Lady and the Track – Laughter – Gun Runner Comes Out of Risen Star as Kentucky Derby Points Leader
Bloodhorse – Balan – Airoforce Likely Off Kentucky Derby Trail
---
ESPN – DRF – Watchmaker – Inside bias prevalent Saturday
---
NY Times – How Does It Feel, Chief Justice Roberts, to Hone a Dylan Quote?
---
Thoroughbred Racing Commentary – Wright – A racing nation on the rise – and the horse spreading the word
---
Lady and the Track – Laughter – Venus Valentine Comes from Outer Space to Collect Kentucky Oaks Points 
---
Bloodhorse – Balan – Smokey Image Finds Trouble Again in Workout
---
Chicago Tribune – Allen – Moment of truth: We must stop Trump
---
Horse Race Insider – Pricci – Perspective in Saturday's Gulfstream Feature
Bloodhorse – Rosario, Hernandez to Miss at Least a Month
---
This is Horse Racing – Sean Clancy – Corn-fed, grand stamp, snaffle-mouthed…
---
domenica 21 febbraio 2016
Sal gotta tell you that that Phil left a tonnellate di material for Sal to work with after Phil's untimely accident.
Too keep things simple and not confuse you too much while Sal's filling in and auditioning candidates for the next Dread Pirate Roberts Sal will try and follow Phil's pedantic strictures and refer to the players by the same program names. One thing Sal can't understand was why Phil had so many quotes. Where Sal came from we never quoted nor plagiarized, we did research.
Like many of the famous poets and authors Phil wrote a whole lotta merda after a couple¹³ of glasses of vino. Suffice it to say that Phil had the uncommon decency to exercise the light of the next dawn rule and most of that merda went unpublished.
All them tunes and Sal couldn't find Tony Bennett.
Phil may not have been connected, but he had a tonnellate di links and sources who still keep sending info to Sal. Sal says mille grazie and please keep them cards and letters coming.
Sal hasn't figured out how to open up the comments section yet, but maybe the next Dread Pirate Roberts will.
Sal did find this perla in Phil's unpublished works:
The QKB, CCW and their rose coloured glasses wearing harness and political buddies may call Phil out because doesn't Phil know that Century Downs at Balzac will lead the revival of the horse racing industry in Alberta.
One year in and the QKB, CCW and their rose coloured glasses wearing harness and political buddies only missed their handle budget mark by about $33,567,210.00. Where Sal came from all sets of da books were kept a fagiolo and if you missed your budget by $33,567,210.00 you'd be swimming with da fishes.
---
The Local – Why Italy's scrapping to be let into Europe's big boys' club
---
Edmonton Journal – Dan Barnes: City-supported Rexall Place renovation could break arena deal
Edmonton Sun – Hicks on Biz: Northlands: An existential crisis
Just in case you've been down the same hole as Topo Sal's giving you another shot at reading what's been said about Edmonton Northlands' proposals. Essere nelle nuvole.
Paulick Report – Northlands Park To Close Following 2016 Season
Edmonton Sun – Gunter: Shake my head at Northlands Vision 2020
Edmonton Sun – Hicks on Biz: Northlands: An existential crisis
Edmonton Journal – Paula Simons: Northlands proposal is a fantasy, not a plan for Edmonton
Edmonton Journal – Gary Lamphier: Northlands unveils bold redevelopment plan
Global News Edmonton – Ramsay – New $165M vision for Northlands includes 7-sheet ice facility, outdoor concert space
CBC – Osman – Northlands hopes to reinvent itself with $165M in renovations
Edmonton Sun – Kent – Northlands unveils long-term strategic plan as new arena rises in downtown Edmonton
Edmonton Journal – Dan Barnes: Northlands isn't horsing around anymore; Vision 2020 plan is about evolution
Edmonton Sun – Jones – Northlands finally putting needs of the community before protecting its own interests
Sal's gonna let you in on something. Read all of the above and you'll know why Ulysses S Grant has a statue but no committee ever will.
Then read all of the comments and you'll be converting to Scientology.
All Sal sees is a bunch of blather with no leadership or action.
Che sciocchezze!
A managia Vic. Where Sal came from you if you wanted a favour from a government official you had to show up with a brown envelope overstuffed with Ben Franklins. These buffones you buffones elected just want a photo op and their ego stroked and a severance package and pension when the next pagliaccio takes over.
Remember when you were a kid and one day you saw a TV get delivered so you wanted to be a truck driver, next day you saw the spotted dog on the fire truck so you wanted to be a firemen, next day you spotted the red headed fighetta who just moved into the neighbourhood so you wanted to be a doctor, but in Sal's neighbourhood no kid ever wanted to be the police. The proposals Tim Reid put forth at the press conference the other day reminded Sal of the conversations on the curb when we were too young to get into the stickball game.  Just keep letting Edmonton Northlands spend Other People's Money and we can keep dreaming up a new re-purposing fantasy every week. Far ridere i polli.
Sal heard that the CEO of Horse Racing Alberta was on one of those radio talk shows the other day blathering about whatever blather she could concoct to make sure she keeps getting paid from her semi no-show position. Basta. Basta.
Sal was wondering:
If Rick LeLacheur was looking after the family business (moving ) while he idly stood by playing dumbfounded with Edmonton Northlands PITS fantasy.
Sal believes that:
Edmonton Northlands would have got much more support from the long tired of losing Edmonton population if they would have proposed applying for an NHL expansion team to play at the renamed Shoppers Drug Place.
From what Sal gleans from reading between the lines looks like the Mayor of Edmonton and his Councillors want Edmonton Northlands to roll over and play dead so that the Katz group doesn't feel the sting of competition. Just like the team Katz ices. Now all the Mayor of Edmonton and his Councillors need to do is convince the other 29 teams in the NHL that competition is bad for the sport and the Oilers could win the Cup.
Che sciocchezze!
From what Sal's seen there's enough business for both the downtown arena and the old arena at Edmonton Northlands, but only if Edmonton Northlands starts doing some scratching around instead of running around like a chicken with its head cut off looking for a vision. Only vision Sal sees for that chicken is:
Q. So what you're saying is that you can't sit still.

A. We're trying to make our product more exciting, the race experience better and make the model more attractive so we can have more ownership and have more competitive teams. We're just trying to make everything better. And it's the policies we put in place, and hopefully we make the right ones, that give people confidence that we get it. We can't stand around in this very competitive place in the United States. You know, they're going to Los Angeles with the N.F.L., they have a playoff now in college football, and they didn't have that two years ago. Tournaments are getting bigger and events are getting better.

We have a nice position in sports, and we're real proud of that. But we're also mindful that we have to do it every day and we have to put policies in place that promote these things and give us a chance to be at our best. You asked before about emails flying in, talking about the quality of the racing. But that's the expectation now. They expect a very close, highly contested event. We don't always do that, but we try to do that. Fans expect that. That's O.K. If I was a fan, I'd expect a 32-30 game myself. I like more offense. I like more excitement. We're no different. And we are unabashed about understanding that. We're not purist. We know where we're headed. We'll see if we can get there.
NY Times – Kerasotis – Brian France on Nascar's Future: 'We Can't Stand Around'
Sal wonders:

How stupid are the buffones who race them jiggies if they believe everything that comes from the mouth of Shirley McClellan. Politicians be they practicing or topping up their retirement scheme don't expect people to believe them and are astounded when people do.
In Dan Barnes story in the Edmonton Journal Shirley McClellan speaking about the slot revenue sharing agreement and the extension of that agreement being negotiated by HRA and the provincial government states:
"There is no indication of that not continuing," said McClellan.
Cazzate.
Non dire gatto se non ce l'hai nel sacco.
Typical political blather. What does Shirley McClellan mean by that not continuing.
If the agreement gets done the horse racing industry will see a taglio di capelli like the one the King got when he was drafted into the US Army.
The biggest indication of the slot revenue sharing agreement not continuing in its present form is that it's not signed yet and there's only 39 days until it expires. How can them jiggie buffones believe that Shirley McClellan can get the slot revenue deal done with the present government when Shirley and her fantoccios couldn't get the deal done when her paesans were in power.
Sal wonders:
What brand of cazzate will Shirley McClellan be dishing out at the emergency meeting that she summoned all her minions to at Nisku on February 23, 2016.
Where Sal came from if you continually were a failure in running your family business you didn't call a meeting you went into hiding or else you end up on an extended vacation searching the bottom of the ocean for Jimmy Hoffa.
Sal was reviewing what Phil's been posting for the last couple of years and his smoke signals weren't about a new pope being selected. Oft times Phil spent too much time menare il can per l'aia, but when he keeps repeating that the rumours are that Northlands Park wants to keep the slots and dump the horses you gotta pay attention. Where's there's smoke there's not only a new Pope, but usually a signal.
Will Shirley McClellan strike up a committee or will she strike up the dance band on the Titanic.
You'll never see a statue dedicated to a committee. If a committee has 13 members they'll come up with 13 useless ideas. Count the number of ridiculous ideas that come out of Shirley's emergency meeting and you can calculate how full the ship of fools was.
One thing and one thing alone needs to be accomplished at this meeting. The end of the line for Shirley McClellan and Rick LeLacheur. Time for the puppets to cut the strings and stand up on their own.
Sal wonders:
Does that unicycle Tim Reid's been pedaling around have a reverse gear cuz he's been doing a lot of backtracking on some of his bold initial pronouncements and starting to use words like a day when we can afford them. Any Spostata knows that it's easier to keep the cat in the bag than stuff it back in once you've let it out.
Hawthorne Sal believes:
E Non sono tutte rose e violini. The thoroughbred horse racing industry in the province of Alberta is in bocca al lupo as long as Shirley McClellan and Rick LeLacheur are in charge of the Kukla and Ollie show.
Sal heard a rumour that the group that's most advanced in planning a new track in the Edmonton area have put their plans on hold and will only move forward when Shirley McClellan and Rick LeLacheur are no longer at Horse Racing Alberta. They kept mumbling something about last time they tried to bury the hatchet it was buried in their back.
Stayed tuned as Sal like Al Pacino is only getting started.
Sal implores you to get as many of your right thinking paesans to let Northlands Park know how stupid their plans are.
Remember it's a toonie in the jar for each profanity uttered, written or thought about.
Like they say when you're giving it's the thought that counts.
Sal dropped in a Ben Franklin before he started the survey.
http://www.northlands.com/vision2020/survey/
---
NY Times – Kreda – For Players in a New Women's League, a Rink Isn't the Only Office
---
Sal heard that some of the Northlands Park employees have started exploring other employment opportunities. They heard that Home Depot was hiring.
---
ANSA – F1: Ferrari aiming for title after presenting SF16
Them good old boys can wave their Confederate Flags and have their toy NASCAR races cause Sal will take F1 any day of the week.
---
Bloodhorse – Angst – Gun Runner Opens 3-Year-Old Season in Style
Lady and the Track – Hammer – Gun Runner Wins Risen Star Stakes at Fair Grounds
---
LA Times – Cherwa – Retired racehorse Zenyatta enjoys new career as a mom
Bloodhorse – Hanging With Haskin – Things You Didn't Know About Zenyatta
Phil would have a link to that band called The Police here. Can you imagine any goombah worth his salt liking The Police.
LA Times – Cherwa – Ziconic, son of Zenyatta, thrills fans at Santa Anita with rally for third
---
Bloodhorse – Angst – Venus Valentine Delivers Fair Grounds Stunner
---
Garden and Gun – Lotz – Spring Training—It's for the Dogs!
---
Bloodhorse – Balan – 'Conversation,' Nyquist Shipping for TC Preps
---
LA Times – Savage – Scalia's uncompromising style at times limited his impact on the Supreme Court
NY Times –  Mourners Honor Justice Antonin Scalia
NY Times – Baker – Justice Antonin Scalia's Funeral Lets Washington Pause in Praise
NY Times – President Obama Is Criticized Over Funeral for Scalia
Sal thinks that even though the President feels he's making the right decision on a personal level and that he's respecting the Scalia family privacy by not attending the funeral as leader of the nation he should attend the funeral to show the family the proper respect the Nation has for Justice Scalia. Besides as the greatest catcher of all time said: Always go to other people's funerals, otherwise they won't come to yours.
At least the President unlike Donald Trump knows that the Pope is Catholic.
---
The Local – Umberto Eco, author of The Name of the Rose, dies
---
Speaking of the Police
Paulick Report – At Age 11, Stallion Law Enforcement Returns To Training
---
The Rebel – Lilley – Liberals shortchange Saskatchewan and Alberta: Refuse to address equalization formula problems
Sal was wondering where Ezra and the rest of his fair weather Rebels were hiding when Stephen Harper was using the same equalization welfare transfers from Alberta to buy votes in Ontario and Quebec.
---
The Globe and Mail – Daina Lawrence – Public-sector leaders must learn from the business world
---
ANZA – Conte may seek match-fixing fast track
---
National Post – Conrad Black: Donald Trump is right – the Pope has no business interfering in the U.S. presidential campaign
---
Speaking of Pie In The Sky
---
Hawthorne Sal