Sal says he's not back in the saddle again, but will sometimes suddenly surface and periodically post some salient comments and stories.
Sal will also periodically  post Alberta thoroughbred announcements and employment opportunities.
---
Global News – Dozens Speak At Public Hearing For Northlands Vision 2020 At City Hall
Edmonton Journal – Stolte – Edmonton Northlands finds public support for Vision 2020
Edmonton Sun – Gunter: Edmonton does not need and cannot afford Northlands' dream
---
Mayor Don Iveson- The Next Steps On Northlands
---
MISS WATERBUG IS FIRST WINNER FOR GARY D

Don and Becky Ming got a special thrill June 27 when their homebred filly Miss Waterbug won a maiden claiming race at Presque Isle Downs by a half-length.
The win was special because the filly is not only a homebred but also the first winner for their stallion Gary D, whom the Mings raced from 2 to 6. Gary D, a son of Successful Appeal—Harford Ghost, by Silver Ghost, won the 2010 OBS Sprint Stakes, colts and geldings division, at the Ocala Breeders' Sales Training Center and would finish second in the Pelican Stakes at Tampa Bay Downs the following year.
With only one minor stakes win, the Mings knew Gary D lacked commercial appeal. But they still felt he deserved a shot as a stallion.
"He is a good-looking, well-conformed horse," said Don Ming. "We felt he deserved a chance, and he's had some really outstanding foals."
Gary D has five named 2-year-olds in his first crop, two of which have started at Presque Isle Downs— Miss Waterbug and Tres Huevos. Miss Waterbug, out of stakes-placed Hardcore Candy (by Yonaguska), won in her second start.
The stallion stands for $1,500 at Ming Farm near Morriston, Fla.
BH
---
Employment Opportunity
Person or couple needed to work on a farm 6 km from Grande Prairie
Housing and vehicle supplied.
Experience working with horses necessary.
From foaling to prepping for breaking.
Proper feeding and daily care must be provided.
Experience with farm equipment from hauling to clearing snow to cutting grass and landscaping.
Self starter able to manage with little supervision..honest and reliable.
Salary negotiable,  workers comp and medical coverage provided.
Please send resume with salary expectations to grandmaside@gmail.com or phone Barb at 780 538 9614 or 780 882 2919
---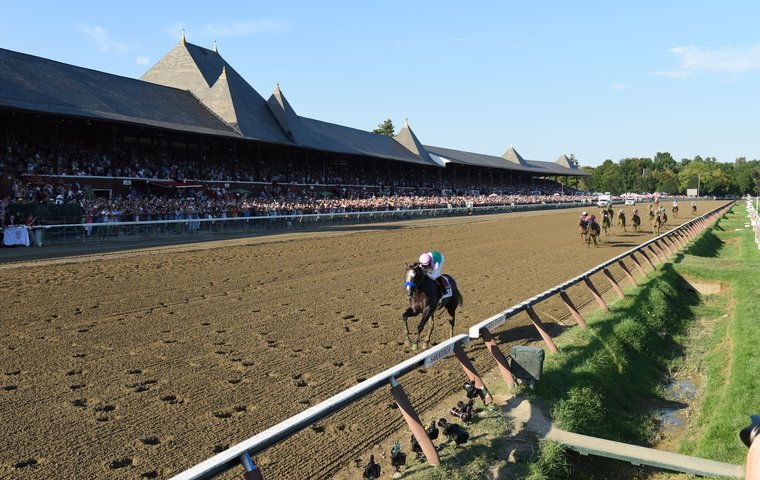 Thoroughbred Racing Commentary – Ehalt – Arrogate's 'ridiculous' Travers: it's now such a baffling year for 3-year-olds
NY Times – Drape – Against Distinguished Travers Field, a 'Freak' Wins by a Chasm
TwinSpires Blog – Scully – Arrogate: the quintessence of a late-blooming superstar
Bloodhorse – Novak – Arrogate Blazes to Travers Record
Lady and the Track – Hammer – Arrogate Seizes Travers in Track-Record Time
TwinSpires Blog – Genaro – Arrogate smashes track record in Travers runaway
Sal says that if part of your handicapping process is to look at which horse a particular jockey has chosen remember that Rafael Bejarano had his choice in the Travers.
Sal says that some scribes weren't surprised by Arrogates performance.
Joe Drape's comment on the Travers:
1. Arrogate

Trainer: Bob Baffert Jockey: Mike Smith Odds: 10-1

This lightly raced colt has been running away from short fields in California. The Hall of Fame jockey Smith will have him running from the get-go and will meet the Hall of Fame trainer Baffert in the winner's circle.
NY Times – Drape – Travers Stakes 2016: Here's Who We Think Will Win
ESPN – DRF – Watchmaker – Arrogate now a contender for 3-year-old male crown
---
This is Horse Racing – Saratoga Special – August 28, 2016
---
Horse Race Insider – Pricci – A Travers Performance for the Ages
---
Horse Race Insider – Indulto – Travers 147: Too Much of a Good Thing?
---
TDN – Finley – A New Superstar; Should Chrome Be Looking Over His Shoulder?
---
---
Bloodhorse – Balan – Flintshire Dominant Again in Sword Dancer
Lady and the Track – Hammer – Flintshire Dominated American Turf in Longines Sword Dancer
---
Bloodhorse – Novak –  Drefong Gallops Home to King's Bishop Score
---
ESPN – DRF – Dunleavey –A. P. Indian stays red-hot with win in Forego
---
Alberta Breeders' Fall Classic Day 
Northlands Park, Edmonton
September 17, 2016 1:00 pm
---
 TwinSpires Blog – Hanson – Nyquist, Exaggerator to meet again in Penn Derby, but will it ultimately mean anything?
Former Jockey Holly Chrichton
will be at Alberta fall Classic Day
selling her soon to be published Book
---
HBPA Alberta ANNUAL GENERAL MEETING
 THURSDAY, AUGUST 25, 2016 – 5:30 P.M.
Sal says that Phil was right. The cookies at the HBPA meeting are good.
Some of the salient points that Sal gleaned in between cookies.
Mat Monaco presented the Financial Statements. Through prudent management HBPA Alberta has about $1.5 million in the bank for a rainy day.
Steve Smith presented the President's Report.
HBPA is presently reviewing their liability insurance in light of the mandatory WCB coverage that all trainers must have for their workers. Proof of WCB coverage may soon be a requirement of HRA licensing. Members were reminded that WCB coverage is mandatory and is insurance that covers workers and limits their rights to sue their employer.
In response to a later question the members were advised that if they don't obtain a WCB number or clearance for contract workers those workers come under their coverage and the premiums must be declared or paid.
Canadian Derby was a relative sucess, but if Northlands Park ever hosts another one HBPA will not allow them to drag out the races and will ensure that horse racing is predominant.
2016 live handle is down 12.1% from 2015. We've raced 26 less races and the number of horses per race is down by .5.
Incentives for 2017 will be the same as in 2016 if there is racing at Northlands Park.
What will happen for racing in 2017 is a a question with many moving parts. Negotiations are taking place with Edmonton Northlands, but their status is also a question with many moving parts.
Steve Smith will be speaking at the public hearing before Edmonton City council on Wednesday August 31, 2016. His comments will be about the positive impact that thoroughbred racing has for the city of Edmonton.
RFPs have been submitted for the new track in the Edmonton area. Groups submitting are required to keep their information confidential.
Purses are averaging about the same as in 2015 about $75k per day.
Waiver claiming will be back in 2017 if the thoroughbreds are back in 2017.
Reminder again that WCB coverage is mandatory.
Norm Castiglione advised that there will be a series of negotiations with respect to purse allocation commencing with a September 13, 2016 meeting.
Norm Castiglione was thanked and received a round of applause for the superlative job he is doing as HBPA rep on the HRA board.
The entire Board was thanked for the job they are doing during these tumultuous times in the racing industry.
Curtis Landry was thanked for the excellent job and the time and money he has put into the Alberta Thoroughbred Racing Club.
A number of complaints were addressed from the members. HBPA will have a meeting with the HRA rules committee concerning standardizing the requirement for 5 furlong works.
Sal says that's about it for the meeting except for one more cookie for the road.
---
Garden and Gun – Price – College Football Stadium Eats
---
CANADIAN THOROUGHBRED HORSE SOCIETY
ALBERTA DIVISION
2016  THOROUGHBRED SALE
SALE BREAKFAST 10:00 AM
SALE STARTS 1:00 PM  HALL A
SUNDAY, SEPTEMBER 18th
EXPO CENTRE AT NORTHLANDS PARK – EDMONTON, ALBERTA
 Click on the following links to open:
---
ESPN – DRF – Welsch – Strike Charmer beats Lady Eli home in Ballston Spa
---
ESPN – DRF – Dunleavy – Cavorting saves best for last in Personal Ensign
---
ESPN – DRF – Grening – Haveyougoneaway upsets Ballerina Stakes
---
Nominations for the 71st Running Of The Speed to Spare
$75,000
A WEIGHT FOR AGE STAKES FOR THREE YEAR OLDS & UPWARD
ONE AND THREE EIGHTH MILES
TO BE RUN MONDAY, SEPTEMBER 5, 2016
* * * * * * * * * * * * * * * * * * * * * * * * * * * * * * * * * * *
ACES AGAIN gr/ro.g.8 Amanda & Gary & Lesley Gregory Amanda Gregory
BLUE DANCER dk b/.g.4 C & H Duggan Farms Ltd. and Shot In The Dark Racing Corp. Greg Tracy
GO MAX dk b/.h.5 Doug Blair Joan Petrowski
ROYAL GRAND b.g.8 Frank Bodell Dave Nicholson
ROYAL WARRIOR dk b/.g.6 Frank Bodell Dave Nicholson
SEEK THE NOBLEST dk b/.c.4 Rollingson Racing Stables Greg Tracy
TOCCETIVE ch.g.7 Southview Ag (1998) Ltd. Dale Greenwood
UP JUMPS A MONSTER dk b/.g.7 Sabre Farms Tim Rycroft
Nominations for the 23rd Running Of The Bird of Pay
$50,000
A SPECIAL WEIGHT STAKES FOR TWO YEAR OLD FILLIES B
SIX AND ONE HALF FURLONGS
TO BE RUN MONDAY, SEPTEMBER 5, 2016
* * * * * * * * * * * * * * * * * * * * * * * * * * * * * * * * * * *
RUFFENUFF b.f.2 Curtis Landry and Red Diamond Stable Greg Tracy
SURGING STAR (Beauregard) dk b/.f.2 Bar None Ranches Ltd. Ron Grieves
TIDAL MIST b.f.2 Riversedge Racing Stables Ltd. Tim Rycroft
Nominations for the 69th Running Of The Birdcatcher
$50,000
A SPECIAL WEIGHT STAKES FOR TWO YEAR OLD COLTS & GELDINGS
SIX AND ONE HALF FURLONGS
TO BE RUN MONDAY, SEPTEMBER 5, 2016
* * * * * * * * * * * * * * * * * * * * * * * * * * * * * * * * * * *
FALL AT LAST b.g.2 Curtis Landry and Red Diamond Stable Greg Tracy
GRU b.g.2 Curtis Landry and Red Diamond Stable Greg Tracy
SHEEP RIVER BEAR ch.g.2 Bear Stables Ltd. and Riversedge Racing Stables Ltd. Tim Rycroft
SILVER CHARGER dk b/.g.2 Derek G. Milen Professional Corp., Elwin Page and Viking Stables Joan Petrowski
TROOPER JOHN b.g.2 Riversedge Racing Stables Ltd. Tim Rycroft
XTREME LYRA ch.g.2 Ted Graling Twylla Bensmiller
---
Edmonton Journal – Stolte – Northlands lowballed costs on Vision 2020 by as much as 40 per cent, Edmonton officials find
Edmonton Journal – Simons – Northlands Vision Is Far From 2020
Edmonton Journal – French – Northlands disputes city's take on Vision 2020
---
Nominations for the Saskatchewan Derby
$20,000 Guaranteed
A STAKE FOR THREE YEARS OLD
ONE MILE AND ONE SIXTEENTH
TO BE RUN SATURDAY, SEPTEMBER 3, 2016
* * * * * * * * * * * * * * * * * * * * * * * * * * * * * * * * * * *
BRICK OF GOLD ch.f.3 Heta Lee Farms Lloyd Weeseekase
CANDY TRADER ch.g.3 Riversedge Racing Stables, Ltd. Tim Rycroft
DESPARADO DANCER dk b/.g.3 Duane Antoine Eurico Martens
EXPECT GREATNESS dk b/.g.3 Pink Cloud Racing Jamie Hartmann
EZ DELUXE b.c.3 Harrington Stables Jamie Hartmann
FAIRMAR b.g.3 Lee Cockrum Jamie Hartmann
I'VE GOT ACTION dk b/.g.3 Gloria and Andy Stephen Gloria Stephen
LIFT ME UP dk b/.c.3 Henry S. Witt, Jr. Mike Tourangeau
MEDIA MELEE dk b/.g.3 John Ganas Jared Brown
MICKY WHITE SOX dk b/.g.3 Colleen O'Hagan Colleen O'Hagan
SMALL VICTORIES ch.g.3 Dialed In Racing Stable and Indyrock Racing Craig Robert Smith
SUPREME STATURE b.g.3 Pink Cloud Racing Jamie Hartmann
TRILL POINT gr/ro.g.3 Pink Cloud Racing Colleen O'Hagan
VICTORY DAY dk b/.g.3 Riversedge Racing Stables, Ltd. Tim Rycroft
WHIPPER WATSON b.g.3 Castletyne Stables Rosemarie Haanen
WITTS HENNY PENNY ch.g.3 Henry S. Witt, Jr. Mike Tourangeau
---
---
Hawthorne Sal