Thoroughbred Racing Commentary – Sage –  Lemon Drop Kid and the 1999 Travers
---
---
Opening day is always so cool to be a part of and to people watch. The Pacific Classic, which I've had the privilege of riding in a couple of times, is great. Every day at Del Mar is fantastic. I love the smells, working out on the beach, running the stairs. It's just a healthy environment. I love it.
Chantal Sutherland
---
Thoroughbred Racing Commentary – Sage – A Saudi prince, a tendon injury and a Big Red Train: the story of the 2001 Travers2001 Travers
Point Given looms large.
---
National Post –  What the man who introduced Canada's income tax 100 years ago actually intended
Sal says that the reason the governments of the world can't solve the drug problems is that they're  afraid that if they can get the addicts unhooked from drugs then the public would expect them to use the same techniques to get the governments unhooked from their behemoth bureaucracies and walloping taxes.
---
Giving money and power to government is like giving whiskey and car keys to teenage boys.
National Post –  Chris Selley: Rolling Stone's Trudeau profile isn't unusually fawning — it's just late to the party
---
---
Only government can take perfectly good paper, cover it with perfectly good ink and make the combination worthless.
Milton Friedman
Stop posing and start performing.
Canada has a 5 – 10 year window until single sports betting is legal in most US States. Change the laws in Canada to fill the border casinos with Yankees crossing to take advantage of legalized sports betting. Who knows we might even end up with a hockey team in Fort Erie.
---
Without gambling, I would not exist.
---
The Globe and Mail – Wente – How privileged are you? Take this test to find out
---
Here lies a wider contemporary problem: all emphasis in culture and politics seems to be of conflict avoidance, homogenization, washing out differences, avoiding judgments, and being attractive, inoffensive, trendily pleasing and completely insubstantial. It is hazardous to leap between great generalizations in apparently unrelated fields, but this is the nature of a great deal of current political discourse. The European project is largely one of homogenization — there will be one herniating mass of laws and regulations and heavy taxation and redistribution for all Europe.
National Post –  Conrad Black: On Dunkirk, Khadr and claptrap about our outgoing Governor General
---
Garden and Gun – Lotz and Portman – West Virginia's Top Dogs
---
Freedom is something that dies unless it's used.
---
NY Times – Tanis – Watermelon Grows Up
---
Bloodhorse – Hangin With Haskin – Secretariat Still Omnipresent After 44 Years
Bloodhorse – Hangin With Haskin –  Secretariat Photo Album
Sal's favourite Secretariat Photo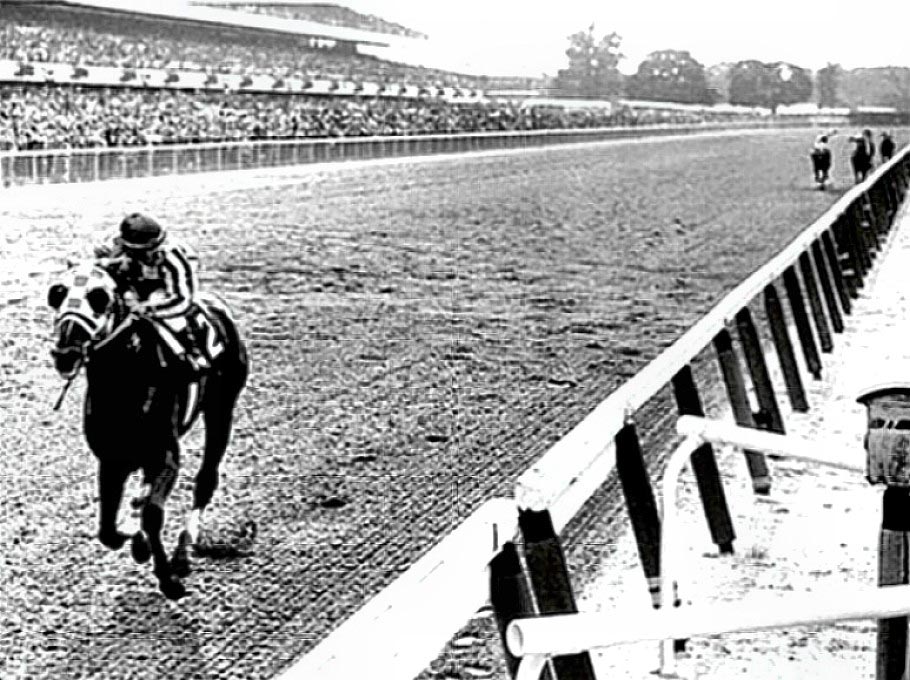 .
Thoroughbred Racing Commentary – McQueen – Children of Secretariat: how a dream came true for an ardent fan
---
---
Sal says that il nove knows you can never sell a Trapper short.
---
Horse Race Insider – Pricci – Saratoga Diary Prep: Spa Off to Blazing Start
---
NY Times –  Bondy – At Cooperstown, a Good Day for Bud Selig, but Not a Perfect One
NY Times – Bondy –  Tim Raines Is Enshrined as an Expo, and He's Happy About It
---
TwinSpires Blog – Powell –  Main track produces slower times, race-riding tactics in spotlight during opening week at Saratoga
Sal says that the RRR will be sending us the real dirt on the track conditions at the Spa next weekend.
---
US Racing – Michaels –  Cash More Winning Tickets in Some of Saratoga's Most Difficult Races
Sal says that the RRR will be sending us the real scoop on cashing winning tickets at the Spa.
---
Bloodhorse –  Weekend Stakes Rundown: Monmouth's Big Day
---
---
Doug Blair's Star Czar headed to the lead right from the gate and never looked back scoring his maiden win in the Edmonton Juvenile by 3 1/2 lengths over Stroll It. The Ontario bred son of Badge  of Silver covered the 6 furlongs in 1:14.98 for conditioner Joan Petrowski with Keishan Balgobin aboard. Kirwan's Mountain got up for third.
Doug has a penchant for finding the bargain basement colts who turn out to be stakes winners.
---
TDN – Bill Finley –  Irish War Cry's Dam Seeks Rare Triple at Monmouth
---
The Globe and Mail – Galloway – Canada lags in conservation efforts
---
NY Times – Perez- Pena – O.J. Simpson Wins Parole, Claiming He Has Led a 'Conflict-Free Life'
The Globe and Mail – Kelly: In Trump's America, an O.J. Simpson renaissance is inevitable
Sal says that with the NFL pension money he's saved up and the wealth of knowledge he's garnered during his stay at the crowbar hotel OJ should be well equipped to recommence the quest for the real killer(s).
Sal says that if you still don't understand how OJ was not convicted of murder just look at his trial in football parlance.
With the plethora of DNA and other evidence Marcia Clark's team started first and goal on OJ's one yard line. Think of OJ's legal team as Bill Belichek. Think of Marcia Clark's legal team as Pete Carroll and Dan Quinn. What would Belichek do. Exactly like OJ's team did. Let the other side implode on their overconfidence.
---
---
The Daily Beast –  How O.J. Simpson Gave Us the Kardashians
Sal says that if the Parole Board would have considered OJ's  worst crime against humanity unleashing the Kardashians it would have been solitary confinement  for the full extent of his sentence with 50 TVs forever tuned into that crap the Kardashians misnamed reality TV.
---
---
Tact is the art of making a point without making an enemy.
Sir Isaac Newton
---
Also breaking her maiden in a Stakes race Dennis, Lora and Wendy Barton' Emma Jean Too closed huge giving her sire Big Lightning his maiden stakes winner. The daughter of Big Lightning out of the Left Banker mare Come Hither was bred in Alberta by Pierre Esquirol where Big Lightning, a son or Bernadini currently stands.  Emma Jean Too covered the 6 furlong in the Princess Margaret in 1:14.15  for emerging trainer Jennifer Hunt with Shamaree  Muir aboard.
Future State lost the bob for the win with Street Made finishing third.
---
Bloodhorse – Eric Mitchell –  Big Lightning Runners Striking Fast in Alberta
---
TDN –  Arch's Nyaleti Destroys Princess Margaret Rivals
---
National Post – Maddeaux – In defence of the gold digger and the fight for class, economic and gender equality
---
---
National Post – Humphreys – Exclusive: This man went to jail rather than pay his ex-wife $10 million in epic divorce battle
---
Divorce is one of the most financially traumatic things you can go through. Money spent on getting mad or getting even is money wasted.
Richard Wagner
---
TDN – Wickes – Letter to the Editor: Where's the Swamp?
---
Bloodhorse – Hangin With Haskin – John Henry, Phil Marino, and Early Cajun Days
---
---
I don't like country music, but I don't mean to denigrate those who do. And for the people who like country music, denigrate means 'put down'.
Bob Newhart
---
ESPN – DRF – Hovdey – Flame of Hirsch and Haskell still alight in major stakes
---
---
Grande Prairie STAKES
Purse $50,000. One And One Sixteenth Miles.
---
Dale Saunders, M. and P. Equipment Ltd. and Met Set Consulting Inc.'s Real Quality headed right to the front and never looked back setting a new track record of 1:44.86 for the 1 1/16 mile distance in the $50,000.00 Alberta Derby at Evergreen Park with Rico Walcott in the irons for conditioner Dale Saunders. Big Kaz got up for second with the filly Saveitforarainyday getting third place money.
---
Brisnet – Hanson –  And the leader of the three-year-old males is…No one
---
Bloodhorse – Wincze Hughes –  Girvin Gets it Done in Haskell Invitational
ESPN – DRF –  Girvin surges late for nose victory in Haskell Invitational
Thoroughbred Racing Commentary – Ehalt –  Girvin shows the best may be yet to come in America's classic generation
TDN –  Girvin Claims Last-Gasp Haskell Win
Paulick Report –  Girvin Flies Last-To-First, Noses Out McCraken In Haskell Invitational
---
---
ESPN – DRF – Girvin flourishing just in time for Haskell Invitational
---
Thoroughbred Racing Commentary – Genaro – More and more, the eyes of the world are on racing in New York
---
Southern Living – Blumberg – The Great American Barbecue Bucket List
---
---
Paulick Report – Del Mar: CHRB To Investigate After Late-Announced Gelding Wins On Opening Weekend
---
Edmonton Journal –  Jason Gregor: Inquiry into Tim Hague's death must remain objective
Edmonton Journal – Barnes – Death in the ring: Passing of Tim Hague shows risks of boxing remain despite regulations
Sal says if they want the job done right better call Da Vinci.
---
Simplicity is the ultimate sophistication.
Leonardo da Vinci
---
---
The Globe and Mail – Crosariol –  Hurrah for B.C. syrah: Eight wonderful wine choices from recent vintages of Canadian red
---
---
Bloodhorse –  Z Capital Partners Purchases Parent Company of DRF
---
Bloodhorse – Snierson – Stronach Group Explores Expansion into Massachusetts
---
---
Bar None Ranches Port Protection scored her second stakes win of 2017 in the Duchess of York Handicap. The Florida bred daughter of Wilburn covered the 1 1/16 miles in 1:46.02 with a stalking trip under Shannon Beauregard for trainer Ron Grieves. Shannon maintained perfect position just off the pacesetter Tara's Way before striking for the front and holding off the hard charging Curlish Figure who got up for second over Tara's Way.
Sal always lauds the clever named horses and one of Sal's new favoruites is the stakes winning daughter of Wilburn – Wilburnmoney.
---
Bloodhorse – Precious –  Bidding on Belmont Land Allowed; NHL Team Interested
---
Bloodhorse – Eric Mitchell – Court Gives FL Breeders Right to Challenge Awards Plan
---
TDN – Caulfield –  Pedigree Insights: Unfortunately
---
TDN – Boyce – Fact: 10 of the Best
---
LA Times –  OpEd – Reicholz – Don't believe the American Heart Assn. — butter, steak and coconut oil aren't likely to kill you
---
---
DMTC – Williams –  Victor Espinoza: Sights Were Set, Now the Dream Is Realized
---
With the scratch of Blue Dancer from the Don Getty Stake Ed Welsh and Deltin Stables' Killin Me Smalls had the front end all to himself and cruised to a 9 1/4 length win under Keishan Balgobin for conditioner Ernie Keller. Zippity Zap got a perfect stalking trip but was no match for Killin Me Smalls when the latter was in his favourite position.  Royal Warrior closed for third.
Unhurried through the 1 1/16 miles Killin Me Smalls got home in 1:43.55 less than a second slower than Chilcoton Blaze's longstanding track record for the distance.
Gotta give Matt Jukich a lot of credit for getting to the winner's circle as quickly as he does to interview the connections after he finishes calling the race. Unfortunately as too often happen at Northlands Park Matt's efforts are almost completely wasted when the sound in Colours and other parts of the building is turned so low that you can't hear a word that Matt says including the race call. You'd think that with all the managers strutting around in Colours and various other parts of the bulding at least one would notice that you couldn't hear the live call of the races or Matt's interviews with the connections or Matt's pre-race rundown.
Might as well be in a Funeral Parlour which Northlands Park will soon become with work progressing on the Century Mile site. Sal's eye in the sky or pick up truck on Highway II says that there was plenty of dust being kicked up as the ground work has commenced. In a few more weeks you'll start to see the steel for the building being erected.
---
National Post – Taunton – The important lessons: Why the grocery store is 'like no other store in the world'
---
Paulick Report –  Del Mar: Business Remains Strong Through Week Two Of Meet
---
ESPN – DRF – Andersen – Flores to retire from saddle, become trainer
---
TDN –  Jockey Club Appoints Chairmen
---
---
ESPN – DRF –  Good Samaritan an intriguing new face
Bloodhorse – Wincze Hughes – Good Samaritan Springs Jim Dandy Upset
TDN –  Samaritan' Proves Too 'Good' in Jim Dandy
Sal had a theory on why Always Dreaming lost the Preakness, but after watching both Always Dreaming and Cloud Computing fail to capitalize on what appeared to be easy trips Sal's theory went right out the window and Sal says that none of the 2017 crop of three year olds has done anything to distinguish themselves on the race track.
---
TDN –  'Ice' Poised for Whitney Showdown
Sal says that the RRR will be reporting from Saratoga on the Whitney weekend so we'll be getting the straight goods on what's happening at the Spa.
---
Paulick Report –  Gun Runner Wraps Up Final Whitney Preparations; Asmussen Watching The Weather
Sal says that if Asmussen wants the real weather reports he needs to stay tuned to the RRR.
---
---
Bloodhorse – Balan – Million-Dollar Purchase Tatters to Riches Wins Debut
TDN –  Million-Dollar Union Rags Baby Graduates First Out at Del Mar
---
TDN –  Stay Thirsty's Coal Front Remains Perfect in Amsterdam
---
NY Times – Caramanica –  Chester Bennington Brought Rock Ferocity to Linkin Park's Innovations
---
---
We build too many walls and not enough bridges.
Sir Isaac Newton
---
TDN – Harvey –  All Good With Lady Aurelia
---
TDN – Harvey –  Permian Likely For Secretariat
---
TwinSpires Blog – Reilly –  A tale of two superstar favorites: Lady Eli lives up to billing, Arrogate flops
Paulick Report – Paulick –  View From The Eighth Pole: They Don't Always Bring Their 'A' Game
Paulick Report –  Baffert 'Disappointed,' But Assures Fans Arrogate Will Be Ready For Pacific Classic
TDN – Massam –  Arrogate "In Good Shape" in San Diego Aftermath
TDN – Thornton – Baffert Reflects on Roller Coaster Weekend
TDN – Powell – San Diego proved a perfect spot for 'bridgejumpers'
US Racing – Simon –  Arrogate Teaches Bettors and Fans Valuable Lesson
---
That men do not learn very much from the lessons of history is the most important of all the lessons that history has to teach.
Aldous Huxley
---
Bloodhorse –  Ransom the Moon Wins Wild Bing Crosby
TDN –  Ransom the Moon Upsets Bing Crosby After Drefong Throws Smith
Paulick Report –  'A Million Reasons To Get Beat': Drefong Fine After Eventful Bing Crosby
Sal says that Bob Baffert and Mike Smith must be listening to Frank croon at track where the surf meets the turf rather than Bing as they they were riding high in the spring but have been shot down in July.
---
But it's the racebook–and getting newcomers into the action–that is really at the center of it all at Striders, which is situated approximately 20 miles south of Del Mar Thoroughbred Club.

"Horse racing is fun for everybody, and I think Del Mar does a great job emphasizing that with the 4 o'clock Fridays, the beer events, the concerts," Fink said. "Horse racing is going to die unless you bring some fun into it and introduce a new generation to the sport, showing them some of the fundamentals of the game."

That is the impetus behind the "Betting 101" classes held at Striders. Available on Wednesdays and Thursdays from 1 to 4 p.m., and during happy hour on Fridays from 3 to 6 p.m., restaurant patrons can enjoy bites, beers and cocktails while learning how to wager from Striders' team of pro handicappers. Classes can accommodate up to 60 guests and everything is taught from wager types, how to read the program, proper lingo and terms, wagering strategies and more.

The pros then will walk guests upstairs to Striders' Turf Club Lounge–their Las Vegas style lounge where people can wager on any horse race happening at the time and watch live on one of the 8,200 square foot venue's 150 HD TVs.
---
---
Bloodhorse – Wincze Hughes –  Miss Temple City Set for U.S. Return in Matchmaker
---
National Post –  Meet the rookie Toronto police horse named after slain officer Sgt. Ryan Russell
---
TDN – Karlsson – Recognizing the Industry's Unsung Heroes
---
---
TDN – Martini –  Four-Year Vet Study Enters Phase Three
---
ESPN – DRF –  Dunleavy – Sharp Azteca sets course record with Monmouth Cup win
---
ESPN – DRF – Dunleavy – Money'soncharlotte takes them all the way to win Molly Pitcher
---
NY Times –  10 New Books We Recommend This Week
---
National Post –  Ahsan – Jane Austen fans furious at banknote blunder
National Post – Lindores – A roof of one's own: On the residences and feminism of Jane Austen on the bicentenary of her death
---
Garden and Gun – Lotz – Southern Summer Reads
---
Garden and Gun – Burke – A Taste for Books
---
US Racing – Ransom –  The Pact: Garret Gomez's Greatest Legacy Part I
US Racing – Ransom –  The Pact: Garret Gomez's Greatest Legacy Part II
---
---
The men have not always been winners. They were shut out the first time they entered the national pie competition five years ago. They had designed their pies for flavor. But when they saw their offerings among the hand-stenciled fruit pie toppings and the tricked-out cream pies, they realized that simply making a delicious blueberry pie wasn't going to cut it.

"We got pretty quickly that this was all about decorating," Dr. Taylor said.

They have learned a few tricks over the years, like putting a glob of piping gel in the whipped cream to help it hold its shape. And they work on their names. Names are very important.

"It can't just be a sweet potato pie," Dr. Taylor said. "It has to be Aunt Pam's sweet potato pie. I started making up relatives a few years ago."
NY Times – Severson –  A Match Made in Baking and Blue Ribbons
---
Paulick Report – Voss –  Veterinarian: Ben's Cat Colic A Complex Condition, Unrelated To Retirement
Paulick Report –  'He Was Just Unbelievable': Laurel Horsemen Pay Tribute To Ben's Cat
---
Racing Post – Forristal –  Horse hit by drone in 'reckless' parade ring incident at Killarney
---
Bloodhorse – Wincze-Hughes –  Irish War Cry Morning-Line Pick in Wide-Open Haskell
Paulick Report –  'House Horse' Irish War Cry Draws Rail, Installed As Morning Line Favorite For G1 Haskell
TDN – Carasso –  A Far Thing From a Far 'Cry'
Paulick Report –  Haskell A 'Family' Affair For De Tomaso, Irish War Cry
Paulick Report –  'They Really Do Have A Rapport': Maragh, Irish War Cry In Sync & Ready For The Haskell
---
Paulick Report – Frank Mitchell –  Bloodlines: Lasting Influence Of Sadler's Wells Shines Through Top Fillies Songbird, Enable
---
Paulick Report –  Dept. Of Homeland Security To Allow 15,000 Additional H-2B Immigration Visas
---
---
FiveThirtyEight –  Paine – Baseball's Best Teams Are Too Damn Good
---
"You can be anti-institution all you want, but you have to know not just how to run a government, but how to run a governing coalition," said Republican strategist Rob Stutzman. "It would appear this is beyond, so far beyond, the president's grasp. This is the danger of having someone as president who has never played in politics."
LA Times – Gov. Jerry Brown shows President Trump the upside of experience
---
---
Daily Bulletin – Rodriguez – The end of horse racing at Pomona's Fairplex has given birth to something 'phenomenal'
Sal says that with the mammoth festival business slowly going the way of the woolly one maybe there's hope for Northlands Park after all.
---
---
Paulick Report –  'The Ship Is Sinking': CHRB Members Argue For Fewer Race Dates
---
Paulick Report –  Los Alamitos Asks CHRB To Investigate Former Clerk Of Scales
---
TDN –  Wrong Horse Wins At Yarmouth
---
TDN –  BHA To Work On New Stewarding Model
---
Paulick Report – 'A Unique Culinary Experience' Taste Of Breeders' Cup: San Diego Set For Del Mar Nov. 3-4
.
---
---
Thoroughbred racing Commentary – Manning – The ex-nurse who has given horses 'a voice' when they don't feel well and can't tell you what's wrong
---
National Post – Ahsan – The money pit: How Arcade Fire has spent a decade creating a single music video with director Terry Gilliam
---
---
Brisnet – Hanson – Legacy of Drumtop lives on early in Saratoga meet
---
---
National Post – Former tennis player Boris Becker bankrupt after he 'invested in Nigerian oil'
Sal says that now you see why your office keeps receiving those idiotic faxes from the Nigerian Prince.
---
National Post – Colby Cosh: Doctor Who fans welcome any kind of Doctor, except a woman
---
---
Thoroughbred Racing Commentary – Willoughby –  Does weight-for-age give 3-year-olds an unfair advantage? Decide for yourself
---
Southern Living – Sims – Sheet Pan Chicken Suppers for Every Night of the Week
---
Experience does not err. Only your judgments err by expecting from her what is not in her power.
Leonardo da Vinci
---
NY Times – Longman – Something Strange in Usain Bolt's Stride
---
---
Thoroughbred Racing Commentary –  How genetic testing is helping to change the idea of what's possible in breeding racehorses
---
TDN –  "Zenyatta, 'Queen of Racing'" to Premier Saturday at Del Mar
---
Bloodhorse – Angst –  Cool Catomine Rolls Late in Prince of Wales Upset
---
Bloodhorse – Wincze – Outplay Outclasses Competition in Curlin Stakes
TDN – Bernardini Colt Dominates Curlin S.
---
Bloodhorse – Spendthrift Australia Schedules Stallion Parades
---
DRF – Russo – Pharoah, Chrome head to Southern Hemisphere for breeding season
---
Brisnet – Scully – Troubling pattern for Songbird resembles past 3-year-old filly champions
---
---
TDN – Sue Finley –  Mack Purchases Racing Rights in Melbourne Cup Prospect
---
---
Thoroughbred Racing Commentary – Smith –  War Front and Kitten's Joy pick a good time to show their quality
---
Paulick Report – Hackbarth –  Breeders' Cup Presents Connections: Putting 'A Face To The Hero'
---
Paulick Report – Biancone Granted Conditional License By KY Horse Racing Commission
---
---
In a closed society where everybody's guilty, the only crime is getting caught. In a world of thieves, the only final sin is stupidity.
Hunter S. Thompson
---
TDN –  Banned Trainer Rick Dutrow's Debts Discharged
---
---
TDN – Kane –  Racing and Its Fans Return to Saratoga
---
Bloodhorse – Queen's Plate Winner Holy Helena Aiming for Alabama
---
---
Millennials, who tend to get blamed for a lot of things, are often identified as the key to golf's current struggles, mostly because they don't much want to play it: it takes too long, it's expensive, and it generally requires a car or access to one. Studies in Canada and the United States have for years reflected the declining interest in golf among young people, and a Sports Business Journal study of television-viewing habits published in June found that of all major sports, golf had the oldest viewership. The median viewer for a PGA Tour broadcast was 64 years old, which was an increase of five years over the past decade. (As an indicator of that, this year TSN and CTV's live coverage of the British Open was just for the weekend rounds; Bell Media left early-round coverage in this country to the Golf Channel.)

It's all of those factors that have led places to consider alternatives to traditional golf, whether it's short courses, or courses with bigger holes, or courses where you can kick around a soccer ball instead of trying to square a clubface against a ball that never seems to go where you are aiming. The New York Times recently profiled a Scot, appropriately named Calum McPherson, who, having witnessed a sharp decline in junior golf enrolment, designed a set of clubs intended for kid use: lighter, with a bigger sweet spot. A fine idea, but unlikely to sweep the globe.

Amid all the talk of ways to reverse trends and get a new generation of people interested in golf, there is one voice with an even more radical idea. It's a voice that commands considerable respect in golf circles: Jack Nicklaus says golf needs to change the ball. The sport's greatest player said late last year that the rash of course closings was "thanks in great part to changes to the golf ball and the distance it travels."
National Post – Stinson –  As courses close and millennials turn their backs, golf reckons with uncertain future
---
Golf is a good walk spoiled.
Mark Twain
---
---
In theory there is no difference between theory and practice. In practice there is.
Yogi Berra
---
NY Times – Keh – Finland Has a Sports Screw Loose
---
NY Times – Ward, Williams and Manchester – 110 N.F.L. Brains
The Globe and Mail – Maki – Studying CTE and its effect on former CFL players could pave way for safer future
The Globe and Mail – Tator – CTE is a serious problem in sports, but it's not too late to save most games
---
Thoroughbred Racing Commentary – Manning – How Katie Potter found an answer to the worst equine virus problem in 30 years
---
Bloodhorse –  Balan – Paid Up Subscriber Romps by 32 1/2 Lengths in Shuvee
---
National Post – NP – Radiohead does controversial Tel Aviv show, ignoring calls for Israel boycott: 'In the end we played some music'
---
Paulick Report –  Santana Hoping To Stay In A New York State Of Mind Following Saratoga Meet
---
Bloodhorse – Balan –  Accelerate Pointing for Pacific Classic
---
Bloodhorse – Balan – Stellar Wind Edges Vale Dori Again in Clement L. Hirsch
TDN –  Stellar Wind Gusts to Hirsch Triumph
---
LA Times – Erskine –  Welcome to the Super Bowl of Sausage, and the ultimate tribute to life's underdogs
---
National Post – NY Times – He's still Bond, James Bond: Daniel Craig on board for next film
---
You don't think I enjoyed what we did this evening, do you? What I did tonight was for Queen and country!
James Bond
---
FiveThirtyEight – Skibba – The Next Step In The Search For Aliens Is A Huge Telescope And A Ton Of Math
---
---
I believe alien life is quite common in the universe, although intelligent life is less so. Some say it has yet to appear on planet Earth.
Stephen Hawking
---
---
ESPN – Smith – Kyrie Irving got tired of being 'son' to LeBron
NY Times – Araton – In Kyrie Irving's Revelation, a Moment of Reflection
FiveThirtyEight – Kyrie Irving Wants To Be A No. 1, But He's Better As A Sidekick
---
ESPN –  Young – The more you know about Kevin Durant, the more you can see how his star ascended
Sal says that before Irving goes spouting off he needs to walk the talk.
---
National Post –  Rex Murphy: One man and his staircase is a threat no city bureaucrat could abide
---
An escalator can never break: it can only become stairs. You should never see an Escalator Temporarily Out Of Order sign, just Escalator Temporarily Stairs. Sorry for the convenience.
---
Bloodhorse – Shea – Wekeela Wins Matchmaker over Miss Temple City
---
TDN –  Dr. Patty Hogan to Give Seminar on When to Retire Racehorse
---
Thoroughbred Racing Commentary – Smith –  Why Ascot's King George may hold a key to what happens at Del Mar in November
TDN – Frary –  Cakewalk For Nathaniel's Enable In the King George
---
TDN –  Munnings's El Deal Dominates in Vanderbilt
---
NY Times – Mather – Michael Phelps 'Raced' a 'Shark,' Kind Of. Not Really.
---
Bloodhorse –  Money Multiplier Breaks Through in Monmouth Stakes
---
---
---
---
Hawthorne Sal