Phil's Reprising The Countdown to the
 Kentucky Derby 2019
Due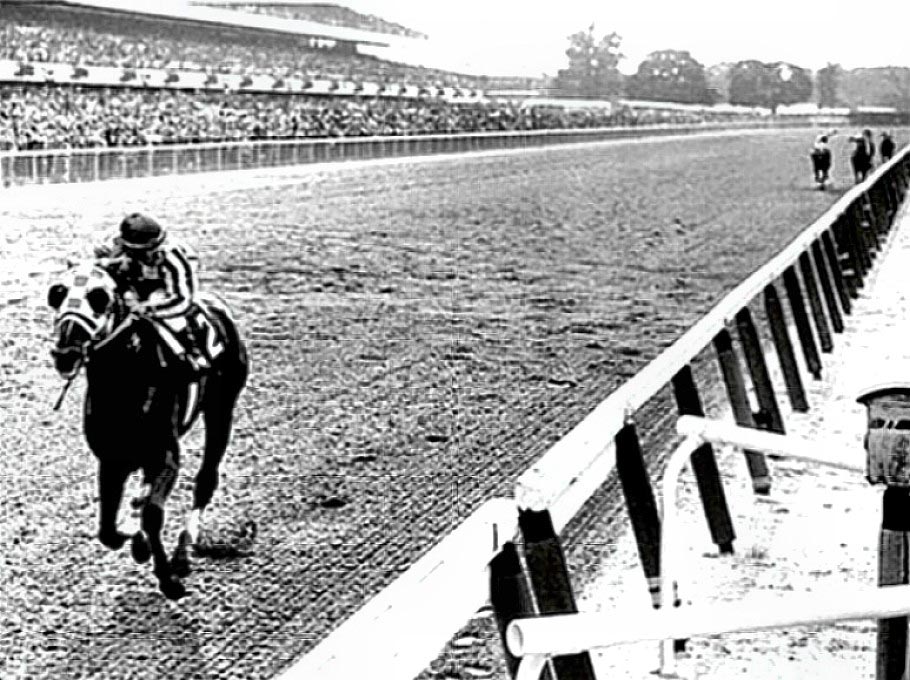 A horse gallops with his lungs, Perseveres with his heart, And wins with his character.
Tesio
---
---
I speak two languages, Body and English.
Mae West
---
NY Times – For Many Latino Players, Roberto Clemente's Number Is Off Limits, Too
---
Pitch me outside, I will hit .400. Pitch me inside, and you will not find the ball.
Roberto Clemente
---
---
LA Times – Ayres – Ukrainian comedian wins presidential election by a landslide
NY Times – Higgins and Mendel – Ukraine Election: Volodymyr Zelensky, TV Comedian, Trounces President
Phil has a question:
With Ukraine being on the Julian calendar is today their April Fools Day.
When will Rick Mercer be announcing his candidacy for President of Canada.
---
---
---
---
A true friend is someone who thinks you're a good egg, even if you're cracked.
Anon
---
---
Spring is the time of plans and projects.
Leo Tolstoy
---
Town and Country – Dangremond and English – 35 Spring Cocktails to Enjoy in the New Season
---
Thoroughbred Racing Commentary – Von Hippel – Racing's golden age – when the Triple Crown was merely a prep for the big handicaps
---
There is no such thing as bad weather, only different kinds of good weather.
John Ruskin
---
---
---
Truth is tough. It will not break, like a bubble, at a touch; nay, you may kick it about all day like a football, and it will be round and full at evening.
Oliver Wendell Holmes, Sr.
---
Kentucky Derby Probables In Points Order
RANK, HORSE, POINTS, TRAINER, JOCKEY
Tacitus, 150, Bill Mott, Jose Ortiz 
Last race: Won Wood Memorial (April 6 at Aqueduct)
Omaha Beach, 137.5, Richard Mandella, Mike Smith
Last race: Won Arkansas Derby (April 13 at Oaklawn)
Vekoma, 110, George Weaver, Javier Castellano
Last race: Won Blue Grass (April 6 at Keeneland)
Plus Que Parfait, 104, Brendan Walsh, Ricardo Santana Jr. 
Last race: Won UAE Derby (March 30 at Meydan)
Roadster, 100, Bob Baffert, Florent Geroux
Last race: Won Santa Anita Derby (April 6 at Santa Anita)
By My Standards, 100, Bret Calhoun, Gabriel Saez
Last race: Won Louisiana Derby (March 23 at Fair Grounds)
Maximum Security, 100, Jason Servis, Luis Saez
Last race: Won Florida Derby (March 30 at Gulfstream)
Game Winner, 85, Bob Baffert, Joel Rosario
Last race: Second in Santa Anita Derby (April 6 at Santa Anita) 
Code of Honor, 74, Shug McGaughey, John Velazquez
Last race: Third in Florida Derby (March 30 at Gulfstream)
Haikal, 70, Kiaran McLaughlin, Rajiv Maragh
Last race: Third in Wood Memorial (April 6 at Aqueduct)
Improbable, 65, Bob Baffert, Irad Ortiz Jr. 
Last race: Second in Arkansas Derby (April 13 at Oaklawn) 
War of Will, 60, Mark Casse, Tyler Gaffalione
Last race: Ninth in Louisiana Derby (March 23 at Fair Grounds)
Long Range Toddy, 53.5, Steve Asmussen, Jon Court
Last race: Sixth in Arkansas Derby (April 13 at Oaklawn) 
Tax, 52, Danny Gargan, Junior Alvarado
Last race: Second in Wood Memorial (April 6 at Aqueduct)
Cutting Humor, 50, Todd Pletcher, TBA
Last race: Won Sunland Derby (March 24 at Sunland)
Win Win Win, 50, Michael Trombetta, Julian Pimentel
Last race: Second in Blue Grass (April 6 at Keeneland)
Country House, 50, Bill Mott, TBA
Last race: Third in Arkansas Derby (April 13 at Oaklawn) 
Gray Magician, 41, Peter Miller, TBA
Last race: Second in UAE Derby (March 30 at Meydan)
Spinoff, 40, Todd Pletcher, Manny Franco
Last race: Second in Louisiana Derby (March 23 at Fair Grounds)
Master Fencer, Japanese qualifier, Koichi Tsunoda, Julien Leparoux
Last race: Second in Fukuryu Stakes (March 31 at Nakayama) 
5 On The Bubble
Bodexpress, 40, Gustavo Delgado, Nik Juarez
Last race: Second in Florida Derby (March 30 at Gulfstream)
Signalman, 38, Kenny McPeek, Brian Hernandez Jr.
Last race: Third in Blue Grass (April 6 at Keeneland) 
Anothertwistafate, 38, Blaine Wright, Juan Hernandez
Last race: Second in Lexington (April 13 at Keeneland)
Sueno, 32, Keith Desormeaux, Corey Lanerie
Last race: Third in Lexington (April 13 at Keeneland)
Bourbon War, 31, Mark Hennig, TBA
---
TwinSpires Blog – 2019 Kentucky Derby News & Notes
---
TwinSpires – Reilly – State of 2019 Kentucky Derby leaderboard and horses on the bubble
---
All the rights secured to the citizens under the Constitution are worth nothing, and a mere bubble, except guaranteed to them by an independent and virtuous Judiciary.
Andrew Jackson
---
TwinSpires Blog – Powell – Sizing up major preps for 2019 Kentucky Derby
TwinSpires Blog – Reilly – Don't rely on Dosage for Kentucky Derby handicapping
---
---
Bloodhorse – Angst – Road to the Kentucky Derby, By the Numbers
---
TDN – TDN Derby Top 12 for Apr. 23
Bloodhorse – Haskin – Derby Dozen – April 23, 2019 – Presented by Shadwell Farm
Paulick Report – Hackbarth – The Derby 20 Presented By Adequan: Finding Value
Paulick Report – 'Works Are Key' To Final Rankings For Kentucky Derby Media Poll
Twinspires Blog – Hanson – Thoughts On The Kentucky Derby Top 25
Horse Race insider – Jicha –  Omaha Beach holds No. 1, could break Derby streak
---
The young man knows the rules, but the old man knows the exceptions.
Oliver Wendell Holmes, Sr.
---
Blooshorse – Anothertwistafate to Golden Gate to Train for Preakness and Sundre Other Churchill News
---
TDN – BIll Finley – The Week in Review: Handicapping the Derby's Annual Game of Musical Jockeys
Paulick Report – Early Jockey Changes: Santana On Plus Que Parfait, Irad Ortiz Picks Up Improbable
TDN – Bill Finley – Smith Chooses Omaha Beach; Geroux Named on Roadster
---
The root of all superstition is that men observe when a thing hits, but not when it misses.
Francis Bacon
---
Paulick Report – Kentucky Derby Update: Four Probables Breeze At Churchill Monday
Bloodhorse – Kentucky Derby Workers Out in Force at Churchill
TDN – Quartet of Derby Contenders Work at Churchill
---
TDN – War of Will Breezes Towards Derby
Phil has a question:
Have you noticed how many of the scribes were speculating on which Pletcher horse JR will ride in the Derby somehow forgetting about War of Will.
---
---
Bloodhorse – Code of Honor Turns in Penultimate Derby Move
---
---
TDN – Baffert 'Happy' with Derby Workers
---
---
Bloodhorse – Fog Impacts Classic Contenders at Churchill Downs
---
Louisville Courier-Journal – Estes – Trainers fight long odds to break into an exclusive club: the Kentucky Derby
Louisville Courier-Journal – Estes – Morning Coffee: Why horse racing is the most unpredictable sport
Louisville Courier-Journal – Estes – By a nose: Making or missing the Kentucky Derby can be decided in a split second
---
Paulick Report – Golden -Mike Smith Optimistic With 'Now Horse' Omaha Beach
Horse Race Insider – Pricci – The Derby Favorite, Led by Commander Smith, Has Landed
Brisnet – Scully – Kentucky Derby Report: Omaha Beach continues to surge
---
---
I've put in so many enigmas and puzzles that it will keep the professors busy for centuries arguing over what I meant, and that's the only way of insuring one's immortality.
James Joyce
---
---
---
Paulick Report – Miller Pleased With Gray Magician; Colt On Target For Kentucky Derby Start
---
Paulick Report – Oaks Works: Champagne Anyone 'Did Everything Perfect,' Street Band 'Does It So Easily'
---
Paulick Report – Sophie Doyle At The 'Dinner Table' With Kentucky Oaks Contender Street Band
---
---
Louisville Courier-Journal – Frakes – Churchill Downs announces new safety initiatives, including $8 million medical center
---
Bloodhorse – Angst – Churchill to Offer Oaks Day-Derby Day Pick 6
---
Opening Day
Sunday April 28, 2019 1:45 PM
---
TDN – Michael Wrona to Call at New Arizona Downs
---
NY Times – Pennington – Tiger Woods Showed He Was Back Not With a Shot, but With a Stare
---
An ice-fishing shanty is basically a tin outhouse on a frozen lake, except that in an outhouse, the hole has a purpose. In ice fishing, the hole is what you stare at for hours, hoping that at some point you'll break the monotony by falling in.
W. Bruce Cameron
---
ESPN – MJ on Tiger: 'Greatest comeback I've ever seen'
Phil has a question:
Does MJ think there is anybody in the sport world stupid enough to believe that he voluntarily took time off from a mega-million basketball career to ride the dog in the baseball minors.
National Post – Washington Post – Des Bieler – Bookie taking a beating: Man bets $85,000 on 14-1 odds of Tiger Woods winning Masters
Phil has a question:
Was the $85k bettor MJ.
---
Horse sense is the thing a horse has which keeps it from betting on people.
W.C. Fields
---
NY Times – Williams – A Small Town Bet on Sports Gambling. It's Still Waiting.
---
Two roads diverged in a wood and I – I took the one less traveled by, and that has made all the difference.
Robert Frost
---
Paulick Report – Pimlico Officials Close Oldest Section Of Grandstand A Month Before Preakness
Baltimore Sun – Donovan –  Pimlico Race Course to close nearly 7,000 seats a month before thousands arrive for Preakness Stakes
Baltimore Sun – Wood – Stronach Group disputes Mayor Catherine Pugh's claim that there was a plan to keep Preakness in Baltimore
---
Bloodhorse – Oser – Alwaysmining Scores Preakness Berth in Federico Tesio
---
There are only two seasons – winter and Baseball.
Bill Veeck
---
Bloodhorse – Oser –  Mandella Returns to Kentucky Derby With Omaha Beach
---
---
You can get the monkey off your back, but the circus never leaves town.
Anne Lamott
---
Bitter Southerner – Relyea – The Cost of Living High
---
---
The Edge… there is no honest way to explain it because the only people who really know where it is are the ones who have gone over.
Hunter S. Thompson
---
TDN – CHRB Files Complaint Against Morey
---
TDN – TD Thornton – Cohen Hit With 60 Days for 'Deliberately' Whipping Rival Jock
---
---
Paulick Report – Turf Star Heart To Heart Retired, Stud Plans Pending
---
---
Have a heart that never hardens, and a temper that never tires, and a touch that never hurts.
Charles Dickens
---
TDN – Ross – Santa Anita: Seismic Changes & Uncertainty Leave Stakeholders Both Hopeful and Worried
---
It was the best of times, it was the worst of times, it was the age of wisdom, it was the age of foolishness, it was the epoch of belief, it was the epoch of incredulity, it was the season of light, it was the season of darkness, it was the spring of hope, it was the winter of despair.
Charles Dickens
---
TDN – AAEP's Berk Issues Statement on Furosemide Prohibition
Phil thinks it's high time that the crooked vets and the even crookeder trainers and even crookeder owners stopped talking through their hats and start eating them or giving them to Mandella and Miller. Their fucking bullshit rhetoric about having to protect the thoroughbred race horse from exercise induced pulmonary hemorrhaging while it races through the only method know to them furosemide illustrates just how incompetent and greedy the vets are and how ignorant the regulators are for listening to the vets who are lining their pockets from unneeded over-medication of horses. Time that the regulators realized that you don't ask Clifford Olson's  views when you're writing the laws on pedophilia.
PETA may not have the brightest cabbages in the patch but one day it will dawn on one of their Beetniks that the way to attack horse racing is through its reliance on medication. Berk the vet stated:
"As Doctors of Veterinary Medicine, science and evidence-based discovery is our foundation, and as such, the AAEP's long-standing racehorse medication policy has supported the administration of furosemide on race day to mitigate the adverse effects of exercise-induced pulmonary hemorrhage (EIPH).
When that Beetnik wakes up and smells the bullshit even though he'll only know it as odious and not be able to distinguish it from chicken shit all that Beetnik needs to do is find a couple of vote seeking politicians who love to pander to the metrognomes who've don't own a car and have only been to a farm on their handheld. Take Berk's comment to its logical extension and the Beetniks will have the politicos taking steps to ban horse racing in North America as it is so stressful on the fragile horses that they can only race if juiced up with the required anti-bleeding medication furosemide to mitigate the adverse effects of  exercise-induced pulmonary hemorrhage (EIPH). Call the beetnik and his PETA buds bleeding hearts if you will, but remember that they are using the vet's bullshit rhetoric that the regulators bought into against the very industry that the vet's are bleeding with their stiff bills for over-medication.
Gotta admit that when the politicos realize that the Beetnik's solution of banning horses racing to mitigate the adverse effects of exercise-induced pulmonary hemorrhage (EIPH) makes sense when viewed from Berk, the vets, fear mongering about forsemide being the only solution to mitigate the adverse effects of exercise-induced pulmonary hemorrhage (EIPH) the logical next step is to take away the requirement of administering furosemide by shutting down horse racing. Don't blame the Beetniks for seeing the corollary to Berk's argument blame Berk and the packs of pocket lining vets.
Thoroughbred racing has to clean the over-medication from its ranks to take away those arguments from the PETA Beetniks.
You may say to yourself that there's a tonne of other sports and animal treatment out there that the politicos should be looking into before they step into the horse racing industry, but remember this isn't about idealism or altruism this is about votes, power and money. The metrognome that buys some oversized inbred  hound dog with inherent genetic problems or some undersized inbred lap dog with inherent genetic problems that it ends up taking to the PETA run animal shelter cuz the dog is too big for their 450 square foot condo in New York or keeps shitting in Paris' purse needs something to assuage their conscience when they know damn well that the PETA run animal shelter killed the hound or lap dog they never should have purchased in the first place. Simple minds can placate their conscience when PETA throws out the BAD horse racing industry as the easy target so you can donate $50.00 and sleep better at night.
Don't think it can happen. Remember that Donald Trump got elected with no platform other than BAD Hilary.
Don't think it can happen.
LA Times – Doug Smith – Build 10,000 houses for homeless in 10 years? L.A. is closer, but it'll have to stretch funds
You may ask yourself why is Phil featuring an article on homelessness in the middle of his cogent on eliminating race day Lasix. Well, you can tell yourself that it's cuz Phil understands just how tight money is and how much competition there is for the tax dollar. Gambling revenue from slot and historic racing machines has and will always be looked upon by governments as found money and the share that goes to horse racing with covetous eyes by every other group that wants money. Does not take much of a leap of faith for a politico sniffing to see which way the voter winds are blowing to take monies away from a sport that has to juice up their horse with furosemide every race day to as Berk, the vet, said mitigate the adverse effects of exercise-induced pulmonary hemorrhage (EIPH). How much empathy will the horse racing industry receive when the politicos shift money from drugged up horses to education, medicine, justice and infrastructure.
The thoroughbred industry has to take the steps to kick the jerks like Berk out of this business so that they're not giving the Peta Beetniks and the politicos cogent reasons to be shutting down horse racing.
---
It is not my fault that certain so-called bohemian elements have found in my writings something to hang their peculiar beatnik theories on.
---
Don't think it can happen.
"They shot those poor schoolkids in Parkland, but there was nuthin' about that on the ballot," she says. "They ban racing, but they've done nothing about guns. It's awful."

That ballot was cast months ago, the vote's gone and done and it still stings.

…

We've seen sports wax and wane, go from the front page to footnote. What we haven't seen is a whole sport just end. Thus is greyhound racing an unusual case. In our lifetime, we'll see the last greyhound race. When or where, we can't say with exact precision. What is immutable fact, however, is that the last greyhound race in Florida, the place greyhound racing matters most, will be run in December of 2020. You can mark it on your calendar; those trying to snuff out the sport have already marked it on theirs. So too have those who fought in vain to preserve it.

…

Like other tracks in the U.S. and around the world, Derby Lane faced mounting criticism from animal-rights groups. Media outlets regularly carry stories on the deaths of dogs at Florida's tracks, which have to report any fatalities to state authorities within 18 hours. Often this coverage in newspapers and on the airwaves followed reports compiled and circulated by GREY2K USA Worldwide or the American Society for the Prevention of Cruelty to Animals (ASPCA), non-profit groups advocating the elimination of greyhound racing. According to their numbers, 3,700 greyhounds raced in the state last year and, on average, the death of a dog at a Florida racetrack is reported every three days — with about 40 percent coming from causes determined to be related to racing.

…

The title of the ballot read, simply: ENDS DOG RACING. The more detailed explanation of the proposed amendment followed, reading, in part: "Prohibition on racing of and wagering on greyhounds or other dogs. The humane treatment of animals is a fundamental value of the people of the State of Florida. After December 31, 2020, a person authorized to conduct gaming or pari-mutuel operations may not race greyhounds or any member of the Canis familiaris subspecies in connection with any wager for money or any other thing of value in this state, and persons in this state may not wager money or any other thing of value on the outcome of a live dog race occurring in this state."

Both the Democratic and Republican candidates for governor got on board in support of the ban. Across the state, the editorial pages leaned the same way. From the Miami Herald: "Dog racing has become a loss leader, a sideshow to slots and card rooms. Amendment 13 allows them a graceful exit from this anachronistic form of entertainment." That said, the Tampa Bay Times, the newspaper of record in Derby Lane's market, was onside with greyhound racing's defenders: "Whatever your view on dog racing, its disposition doesn't belong in the Constitution. On Amendment 13, the Tampa Bay Times recommends voting No."

…

Winning suggests that Derby Lane and particularly the racetrack's past president Arthur Weaver Jr. were well out in front on the protection of greyhounds. It had long been greyhound racing's darkest secret that many dogs that either didn't show the speed for the track or had run their last races were shipped to labs for medical experimentation or put down, often inhumanely. Ron Walsek, a trainer at Derby Lane, founded Retired Greyhounds as Pets (REGAP) in the early '80s and found homes for thousands of dogs. Weaver Jr. supported Walsek's initiative and the dozens of non-profits that followed the trainer's lead in the years since. Seemingly every community across the state has at least one chapter of Greyhound Pets of America. "We had support from [Greyhound Pets of America] and all the other adoption groups for 'NO on Proposition 13,'" Winning says. "We've tried to work as closely as we can with those agencies. That didn't get out there, though, and the voters didn't know about that. We have always been committed to supporting the cause. If it had been talk about regulations and enforcement to protect the greyhounds, of course our door would have been open and we would have talked."

Others might put stock in a late run from the far outside to save greyhound racing in Florida, but not Winning. "It's done," he says. "A court challenge now would be throwing good money after bad. The activists are going after everybody. They've taken out the most important state in the nation for greyhound racing and they'll go after the others. And they're going to go after horse racing after that. Hopefully, the owners look at what happened here and can prepare for it. There's nothing left here other than parimutuel betting for other tracks and the poker room, and [for that] we don't need all this land or the buildings. But that doesn't mean we're going to close it tomorrow — we'll take it to the very end … to December 2020 and honour those who came before us. All we can do is go out with guns blazing."
Sportsnet – Joyce – DOWN THE HOME STRETCH
But the Yes on 13 campaign had something voters apparently found compelling: state reports of the dogs being injured or even dying on the track and in some cases the video footage to prove it.

It made for powerful TV, and that's where the Committee to Support Dogs — the Yes on 13 campaign — spent the bulk of its money. While opponents were renting billboards and posting yard signs, supporters put 94 percent of their donations into television ads in major Florida markets that showed dogs tumbling and twisting during a race and pressing their noses to the wire cages where they spend much of their days.

"The moment [pet] owners saw greyhounds falling and dying on the track, the campaign was over," Theil said.
…
Ultimately, Theil claims, the industry has no one to blame but itself. From 2011 onward, his group tried to pass reforms in the Florida Legislature that would have allowed dog tracks with other gambling operations to continue without the dog racing, as state law previously required. The industry fought it, and it also fought a bill to ban steroid use in racing greyhounds and a bill to track greyhound injuries statewide.

"They should have been on a path to reform years ago, and instead they deceived themselves with this story that we were radicals and extremists," Theil said. "I don't think they realized until Wednesday morning, if even then, that we were actually channeling the mainstream view on the welfare of dogs."
Orlando Sentinel – Santich – How vote to end Florida greyhound racing won and what comes next
That greyhound racing is a dying industry has been widely known for years. Between 1991 and 2014, the total amount of money gambled on races across the nation fell from $3.5 billion to $500 million, according to a report by the Association of Racing Commissioners International. In that time frame, at least 40 tracks either closed or ended racing, including one in Key West and another in Miami. Seven states repealed laws allowing betting on live dog races.
Miami New Times – Shammas – Florida Greyhound Racing Has a Complicated Legacy
---
I wonder if other dogs think poodles are members of a weird religious cult.
---
Thoroughbred Racing Commentary – New Zealand to act to combat industry's 'serious decline'
Government Review of the New Zealand Racing Industry
Phil has a question:
What could ever go wrong with having a government operated board overseeing the rebuilding og the horse racing industry.
---
Don't Think it can happen
They say that success has many fathers and failure is an orphan — but in the case of Ringling, there is at least one proud papa taking credit for driving the circus into the ground: the animal rights movement.
"As of May the saddest show on earth for wild animals will end," crowed People for the Ethical Treatment of Animals in a news release after Ringling announced its imminent shutdown in January. "Thirty-six years of PETA protests, of documenting animals left to die, beaten animals, and much more, has reduced attendance to the point of no return."
The dwindling audiences that led Ringling to fold up its metaphorical Big Top (it hadn't performed in an actual tent since 1956) probably have had more to do with competition from other forms of family entertainment than with animal rights agitation. But the Kill Ringling movement — which includes many groups, among them the Humane Society of the United States, the American Society for the Prevention of Cruelty to Animals and the Performing Animal Welfare Society, as well as celebrities such as "Baywatch" star Pamela Anderson and "Family Guy" creator Seth MacFarlane — was nothing if not dedicated. PETA posted picket-bearing protesters outside nearly every Ringling performance and flooded the Internet with disturbing videos showing helpless beasts shackled in chains, closely confined in cages, goaded with hooks and whips and vulnerable to infectious diseases in packed circus trains.

…
The implications of this position are sweeping. It might be OK to teach Fido to fetch (as long as you use positive reinforcement), but PETA and others maintain that using dogs to guide the blind is morally problematic (service dogs have to "work day after day"). Among true believers, it's morally wrong to ride a horse or show a dog at Westminster. The movement's blanket opposition to animal testing of drugs discounts the desperation of parents whose baby might be saved. And don't even think about buying a sweater (sheep exploitation), let alone that fur coat.
You can rejoice — although I don't — at the passing of the Ringling circus and its animal acts, but you might want to think hard about the world those who agitated for its passing want to create.
LA Times – Allen – The forces that shut down Ringling Bros. want to end a lot more than animal abuse
NY Times – Nir and Schweber –  After 146 Years, Ringling Brothers Circus Takes Its Final Bow
---
Democracy is the art and science of running the circus from the monkey cage.
---
Horse Race Insider – Jicha – Capitalizing on this crisis is not so easy
---
Paulick Report – Canterbury Park, Horsemen Develop Project To Encourage Racehorse Ownership
---
TDN – TD Thornton – Are Challenges To Lasix Phase-Out Baked Into Current Regulatory Policies?
---
TDN – Ross – Frank Stronach Touts Tuesday Talk, Racing Charter of Rights In Open Letter
---
---
Bloodhorse – Surrounded by Challenges – By Evan Hammonds
---
The ultimate measure of a man is not where he stands in moments of comfort and convenience, but where he stands at times of challenge and controversy.
Martin Luther King, Jr.
---
Louisville Courier-Journal – Cash and Estes – What you need to know about the use of Lasix in horse racing
---
I got treated very badly in Texas. They don't treat beatniks too good in Texas. Port Arthur people thought I was a beatnik, though they'd never seen one and neither had I.
Janis Joplin
---
---
Brisnet – Racetrack coalition to implement Lasix ban in stakes, two-year-old races
Phil has a question:
Do you think that any person at Horse Racing Alberta is even aware of this step by the tracks.
Paulick Report – Report: NYRA, Churchill, Keeneland In Talks About Banning Lasix For Juveniles, Stakes Races
TDN – Thornton – Lasix Phase-Out Plan Yet to Involve Horsemen
Phil has a question:
Isn't asking the vets and horsemen about the phasing out of Lasix a bit like asking Paul Bernardo about his views on parole.
---
The unfortunate thing about this world is that good habits are so much easier to give up than bad ones.
Somerset Maugham
---
---
TDN – McGrath – 'Old World' Commends Brave New One on Lasix
---
NY Times – Powell – A Giant Laid Low by Too Many Blows to the Head
NY Times – Powell –  At Colorado, a Breach in Football's Wall
---
Paulick Report – Frank Mitchell – Bloodlines: War Front Sends A Pair Of Derby Contenders Into Battle Again
---
NY Times – Nadelson – From the Purveyors of New York's Best Mozzarella, a New Cafe
---
---
LA Times – Coan – Donald Trump is no Richard Nixon. He's worse
---
Richard Nixon was an evil man – evil in a way that only those who believe in the physical reality of the Devil can understand it. He was utterly without ethics or morals or any bedrock sense of decency.
Hunter S. Thompson
---
---
National Post – Washington Post – Miller – As Mueller investigation ends, experts see one winner after two years of American chaos: Putin
---
---
The Globe and Mail – Grant – ADHD symptoms linked to children who have more than two hours of screen time a day, study says
---
Phil M Stockmen