Countdown to the
2023 Kentucky Derby 149

America's Best Racing – Curry – A Beginner's Guide to the Kentucky Derby
John Jeremiah Sullivan – Horseman Pass By_(Secretariat)
Kentucky Derby is Decadent and Depraved – Hunter_S_Thompson
Brisnet – Get to know the 2023 Kentucky Derby contenders
---
Road to the 2023 Kentucky Derby 149
Saturday, May 6, 2023
Friday, May 5, 2023
---
Vote early and vote often. 
Al Capone
---
2023 Preakness 148 Saturday May 20, 2023
DRF – Russo – Some Kentucky Derby hopefuls now setting their sights on Preakness
TDN – Preakness 148 Offers Limited Edition Ale
---
2023 Belmont Stakes  Saturday June 10, 2023
---
---

Join us on Friday, May 5th, at Century Mile Racetrack and Casino.
Book your tickets before April 28th. Contact CTHS office at 403-229-3609 or visit www.cthsalta.com for tickets and more information.
---
Updated Kentucky Derby Leaderboard
One interesting pedigree note this year is a possible exacta box with Forte and Two Phil's, and this may hit an emotional note more than a scientific one.  Forte's maternal grandsire Blame and Two Phil's' maternal great-grandsire Birdstone are both stamina-heavy stallions who probably caused more grief to racing fans than any horses in memory. To this day there still are tens of thousands of fans who refuse to watch Blame's Breeders' Cup Classic victory over their beloved Zenyatta, who was only inches from a 20-race undefeated career, and Birdstone's Belmont Stakes victory over Smarty Jones, one of the most popular horses ever who was only yards away from being an undefeated Triple Crown winner, but was basically ganged up on by the jockeys of his main opponents. This is a totally believable exacta that would finally give these two horses (Birdstone is now actually pensioned) some well-deserved positive press.
Speaking of Two Phil's, for those who feel his sire Hard Spun might be compromised at 10 furlongs, Hard Spun's dam is by Turkoman, who ran one of the fastest Marlboro Cups ever and placed in the Breeders' Cup Classic, Jockey Club Gold Cup, and Travers, out of a half-sister to Belmont and Preakness winner Little Current, by English Derby winner Roberto.
Haskin's Derby Rankings: How to Find a Derby Winner… With Your Eyes
Bloodhorse – Byron King – Forte Continues Reign Atop Derby Dozen
TDN – Thornton – TDN Derby Top 20: Cadence Quickens, Plot Thickens
XBTV – Jeff Siegel's Kentucky Derby Deluxe Dozen (updated 4/14/23)
Paulick Report – Champagne – The Derby Bubble Presented By Kentucky-Breds: The Waiting Game Begins
Horse Racing Nation – Kentucky Derby 2023 Contenders
Horse Racing Nation – Shifman – Kentucky Derby 2023: Early full-field odds and analysis
---
Kentucky Derby Leader Board as at April 30, 2023
| | | | | | |
| --- | --- | --- | --- | --- | --- |
| | Horse | Points | Trainer | Probable Jockey | Odds |
| 1 | Forte | 190 | Todd Pletcher | Irad Ortiz Jr. | |
| 2 | Practical Move | 160 | Tim Yakteen | Ramon Vasquez | |
| 3 | Angel of Empire | 154 | Brad H Cox | Flavien Prat | |
| 4 | Tapit Trice | 150 | Todd Pletcher | Luiz Saez | |
| 5 | Two Phil's | 123 | Larry Rivelli | Jareth  Loveberry | |
| 6 | Lord Miles | 105 | Joseph A Saffie Jr. | Paco Lopez | |
| 7 | Derma Sotogake (JPN) | 100 | Hidetaka Otonashi | Christophe Lemaire | |
| 8 | Kingsbarns | 100 | Todd Pletcher | | |
| 9 | Raise Cain | 64 | Ben Colebrook | | |
| 10 | Rocket Can | 60 | William Mott | Junior Alvarado | |
| 11 | Hit Show | 60 | Brad H Cox | Manuel Franco | |
| 12 | Confidence Game | 57 | Keith Desormeaux | James Graham | |
| 13 | Verifying | 54 | Brad H Cox | Tyler Gaffalione | |
| 14 | Sun Thunder | 54 | Ken McPeek | Brian Hernandez Jr. | |
| | Wild On Ice | 50 | Joel Marr | Kenneth Tohill | |
| 15 | Mage | 50 | Gustavo Delgado | Javier Castellano | |
| | Blazing Sevens | 46 | Chad Brown | | |
| 16 | Disarm | 46 | Steve Assmussen | Joel Rosario | |
| 17 | Reincarnate | 45 | Tim Yakteen | John R Velazquez | |
| 18 | Jace's Road | 45 | Brad H Cox | Florent Geroux | |
| 19 | Skinner | 45 | John Shirreffs |  Juan Hernandez | |
| 20 | Continuar | JRD | Yoshito Yahagi | Ryusei Sakai | |
| AE | Cyclone Mischief | 45 | Dale Romans | | |
| AE | Major Dude | 40 | Todd Pletcher | | |
| AE | Mandarin Hero | 40 | Terunobu Fujita | Kimura Kazushi | |
| AE | King Russell | 40 | Ron Moquett | Raphael Bejarano | |
| AE | Arctic Arrogance | 36 | Linda Rice | Jose Lezcano | |
| AE | | | | | |
| AE | Instant Coffee | 32 | Brad H Cox | | |
| AE | Continuar (JPN) | 30 | Yoshito Yahagi | | |
| AE | Funtastic Again | 30 | Wesley Ward | Gerrado Corrales | |
| AE | Dreamlike | 30 | Todd Pletcher | | |
| AE | | | | | |
---
le dimanche 30 avril
Taking something from one man and making it worse is plagiarism.
George A. Moore
Over the next week the media both social and unsocial will be publishing Kentucky Derby stories of varying degrees of merit and relevance. If you search deep enough you'll probably be able to find a "special interest" story on the blacksmith who pounded out the first winner's horseshoes on an Anvil in Louisville. The serious horseplayers love those articles for the distraction and misinformation they provide to the betting public.
Mental Floss – Kontolemos – Why Are Horseshoes Considered Lucky?
Vox – McKinney – The 9 unbreakable rules of the Wile E. Coyote/Road Runner universe
Never knowingly be serious.
Doctor Who's Rule Number 27
Scientific American – Renou , Acin and Navascues – Quantum Physics Falls Apart without Imaginary Numbers
Phil has a question:
If we know that the (sqrt(-1))² = -1 why do we call sqrt(-1) an imaginary number.
If you use Roman Numerals to do Chinese Math do you need imaginary numbers.
Los Angeles Times – Cherwa – 'Even more phenomenal 50 years later': A look back at Secretariat's Triple Crown
ESPN – Kiper – 2023 NFL draft grades for all 32 teams: Mel Kiper's steals, sleepers
The Ringer – Kelly – Grading Every Team's Performance in the 2023 NFL Draft
Sports Business Journal – SBJ Unpacks: NFL Draft audience up big
Sports Illustrated – Manzano and Verderame – NFL Draft 2023 Grades: Analysis of Every Team's Picks
Buy the ticket, take the ride.
Hunter S. Thompson
No, ramen's not good for you. But in Japan, our favorite thing to do after drinking all night, especially in Sapporo where it's freezing cold, is to go to the ramen place at two, three in the morning.
Cary Fukunaga
I ain't got much education, but I got some sense.
Loretta Lynn
Soup is a lot like a family. Each ingredient enhances the others; each batch has its own characteristics; and it needs time to simmer to reach full flavor.
Marge Kennedy
I used to be a heavy gambler. But now I just make mental bets. That's how I lost my mind.
Steve Allen
An idealist is one who, on noticing that roses smell better than a cabbage, concludes that it will also make better soup.
H. L. Mencken
Speed provides the one genuinely modern pleasure.
Aldous Huxley
Three keys to success: read, read, read.
Vladimir Lenin
If you wistfully enjoyed remembering when while watching those recent Kentucky Derby replays you've got a brain the size of a walnut and you probably can't remember when you last cashed a big ticket. Get out the historic pps and like Vlad said: read, read, read and you might find a hint that will help handicap the 2023 Kentucky Derby. Pay attention as there may be a couple of hidden hints and cryptic clues over the next few days.
Remember when' is the lowest form of conversation.
Tony Soprano
Horse Racing Gold – Turn Time – The Hidden Fraction
Speed's relative.
Richard Petty
When I first started racing, my father, one of the first things he said, he said, "Win the race as slow as you can."
Richard Petty
Bloodhorse – FanDuel Marketing Derby Wagering to Sports Bettors
The only reason for time is so that everything doesn't happen at once.
In opera, there is always too much singing.
Claude Debussy
Bloodhorse – Rollins – Cox Brigade Records Final Derby Tuneups
DRF – Russo – Kentucky Derby: Angel of Empire, Jace's Road work together
DRF – 2023 Kentucky Derby Clocker Report: Hit Show, Verifying have Cox smiling
I don't know anyone who curses the way they do on the Sopranos. Not in an Italian household. I never said the word hell in front of my mother.
Danny Aiello
Bloodhorse – Angst – Mage, Confidence Game Impress in Final Derby Works
Bloodhorse –  McCroskey – Defining Purpose, Mimi Kakushi Put in Final Oaks Works
Domesticated males aren't much use for adventure.
Jim Elliot
Bloodhorse – Ehalt – Brown, Kumin Head to the Derby in New Role as Breeders
Southern Living – Nunn – Lost Salads of the South
North of the 49th we don't call tomatoes and crackers a salad.
Southern Living – McCay – The South's Best Sports Venues You Need to Visit
Thoroughbred Racing Commentary – 'Calvin Borel's reaction to winning on Mine That Bird was movie magic' – focus on a big-screen Kentucky Derby
Matching Food and Wine – Beckett – The best wine – and other drinks – to pair with macaroni cheese
Paulick Report – Balnikhov Last To First In San Francisco Mile; Unbeaten Prince Abu Dhabi Wins California Derby
"I don't think we should hang our heads. I think we should reflect and build." (Kings coach Todd McLellan)

Los Angeles Times – Elliott – Column: Kings' season of promise ends in a repeat of playoff loss to Oilers
Hockey Feed – Larivee – Blake Wheeler fires back at Rick Bowness on Saturday.
NHL Trade Rumours – Litman – Winnipeg Jets Coach Rick Bowness Backpeddles On "Disgusting" Comments
Phil has a question:
If the Jets performance was disgusting how disgusting was Bowness'  job of getting his players ready for a big game.
Brisnet – Get to know the 2023 Kentucky Derby contenders
Horse Racing Nation – Flatter – Meet the trainers who will compete in Kentucky Derby 2023
Paulick Report – Kentucky Derby Update: Trio Of Workers Away From Muddy Churchill Downs On Friday
DRF – Andersen – Yakteen pair of Practical Move, Reincarnate put in fast works for Kentucky Derby
DRF – Welsch – 2023 Kentucky Derby Clocker Report: Confidence Game makes an appearance
Bloodhorse – Byron King – Kentucky Derby Horses Take It Easy in Slop at Churchill
Bloodhorse – Byron King – Japanese Runners 'Take Up the Challenge' on Derby Day
Kingsbarns was to have his final workout for the Kentucky Derby on Saturday. Jose Ortiz was scheduled to work him and is the leading candidate to ride him in the race.
DRF – Grening – Kentucky Derby: Kingsbarns, Mage try to join exclusive company in their fourth start
Bloodhorse – America's Best Racing – Isabella Leslie – Nicknames and Quirks of Some Kentucky Derby Hopefuls
TDN – McGrath – Mage Benefits From Feet Of Clay
Paulick Report – Nevills – Jareth Loveberry's Unlikely Ride From Michigan Bullring To The Kentucky Derby
DRF – Welsch – Kentucky Derby Clocker Report: Oaks fillies dominate Thursday training session
DRF – Hersh – Kentucky Derby: Two Phil's cruises through five-furlong drill at Hawthorne
Also completing his final work for the Derby away from Churchill Thursday was Jeff Ruby Steaks (G3) winner Two Phil's. The son of Hard Spun breezed five furlongs in :59 on a fast track at Hawthorne Race Course, earning the bullet from 16 horses who breezed at the distance there.
Bloodhorse – Angst – Raise Cain Smoothly Breezes Toward Kentucky Derby
DRF – Kentucky Derby: Raise Cain gets final work; jockey still to be determined
DRF – Andersen – Skinner gains Kentucky Derby berth; Juan Hernandez gets mount
Southern Living – Grandma's Favorite Family Reunion Recipes
Bloodhorse – Japanese Duo, Sun Thunder Breeze at Churchill for Derby
How much should I factor jockeys into Derby bets?

Including their five to seven pounds of tack, the Derby three-year-olds can carry 126 pounds max, which means a jockey must weigh no more than 119. At that number or less, jockeys must be rock-hard athletes whose horse sense and racing acumen are honed to guide a 1,200-pound Thoroughbred blasting through the Derby's mad scrum at forty miles an hour. In that fray, a jockey never "sits"; he or she crouches above without touching the saddle, knees and hips taking the brunt of the horse's twenty-foot stride. As the Triple Crown kickoff, drawing huge fields of only lightly experienced runners, the Derby is a skilled pilot's race like no other. John Velazquez is one of just ten jocks to have won the race at least three times. Mike Smith has $345 million–plus in winnings and has twice taken the Derby. Irad Ortiz Jr. has posted $268 million in his career, $37 million of which he hauled in just last year. Smith and Ortiz alone win between 16 and 20 percent of the races they enter. When sculpting your bets, take a hard look at who's in the irons, because all Derby jockeys can ride. If you forget them, they'll sting you.
Garden and Gun – Martin – Ask G&G: Florida Shark Fears, Hush Puppies Without a Deep Fryer, and a Derby Betting Tip
TDN – Derma Sotogake Drills; Thursday Oaks Schedule Quickens
Paulick Report – Kentucky Derby Update: Derma Sotogake Stars On Wednesday Worktab At Churchill Downs
Horse Racing Nation – Three Kentucky Derby Longshots
Thoroughbred Charities of America Named Charitable Beneficiary of the Derby Dozen Handicapping Event
Yield to temptation. It may not pass your way again. 
Robert A. Heinlein
TDN – Martini and Bossinakis – $1.45-Million Arrogate Colt Leads The Way At OBS Spring Opener
Bloodhorse – J. Keeler Johnson – 13 Trends to Know Before Betting on 2023 Kentucky Derby
Dirty Horse Club –THE 2023 Kentucky Derby ANALYSIS
Paulick Report – 'Laid-Back' Mage Makes First Appearance At Churchill; Javier Castellano To Ride In Kentucky Derby
Bloodhorse – Byron King – Castellano to Ride Mage in Kentucky Derby
Bloodhorse – Kentucky Derby Post Positions by the Numbers
---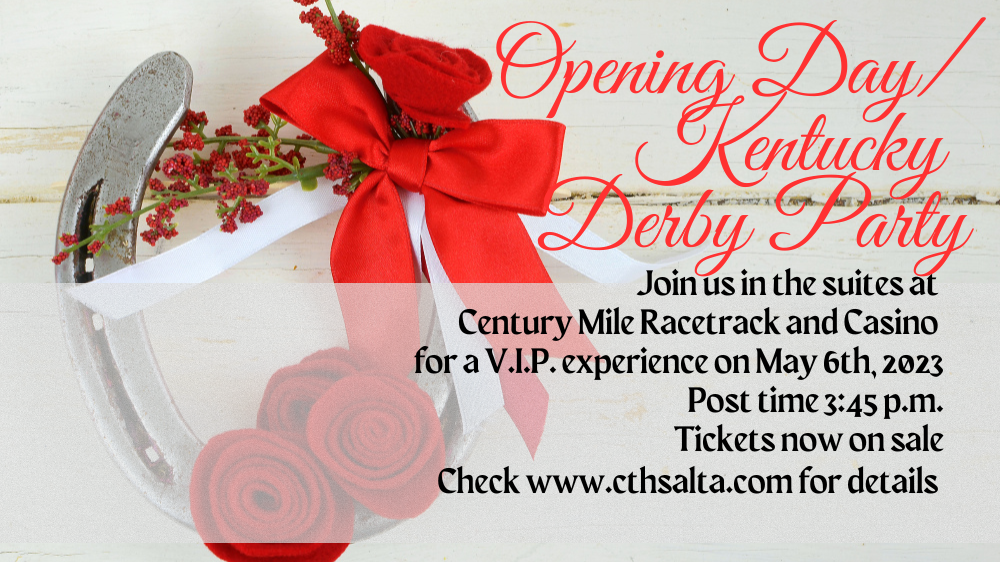 ---