---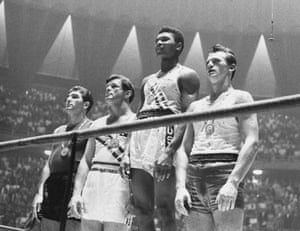 Esquire – Muhammad Ali: What I've Learned
vendredi 5 mai
A man who plays the races successfully must have opinions of his own and the strength to stick to them no matter what he hears.
Pittsburgh Phil
Garden and Gun – Florio – The Kentucky Derby Vs. the King's Coronation
Sports Business Journal – New experiences in store for F1 Miami
Phil has a question:
Does anyone in Alberta racing understand that the paddock isn't just an afterthought.
What was the most popular place at Stampede Park.
TDN – 50 Years Ago Today, I Was At Secretariat's Derby
The Athletic – Sayles – Kentucky Derby 2023: 5 long-standing traditions at Churchill Downs
The Athletic – Genaro – Analyzing the horses in the Kentucky Derby field: Favorites, contenders, pretenders and more notes
Bloodhorse – Gregory A. Hall – Updates for Picture Perfect Oaks and KY Derby Days
Bloodhorse – Angst and Joe Perez – Derby Notebook: More On Scratches and AEs
TDN – Sherack – Kentucky Derby Report: Eventful Thursday Morning Beneath the Twin Spires
DRF – Grening – Kentucky Derby: Forte gallops after minor shoe adjustment
Bloodhorse – Byron King – Pletcher: Forte, Two Other Derby Entrants 'On Course'
Bloodhorse – Angst – Skinner Fourth Horse to Scratch From Kentucky Derby
Bloodhorse – Continuar Out of Derby; King Russell Draws In
TDN – Continuar Out Of Derby, King Russell In As Last AE
WDRB – Crawford and Delouche – 'I'M A SCAPEGOAT:' Suspended Derby trainer fires back at Churchill Downs
TDN – Joseph: `Churchill Trying To Save Face'
CDI just made Saffie Joseph Jr. the GOAT, but unfortunately for him CDI used SCAPE as a prefix.
TDN – Churchill Expresses Concern After Deaths of Two Saffie Joseph Horses
Paulick Report – Kentucky Horse Racing Commission Scratches All Saffie Joseph Runners; Mandarin Hero Draws In To Kentucky Derby
Bloodhorse – Churchill Downs Suspends Joseph Indefinitely
Bloodhorse – Angst – KHRC Forces the Scratch of Lord Miles From Derby
Bloodhorse – Joe Perez – Practical Move to Scratch From Kentucky Derby
Bloodhorse – Angst – Uninjured After Throwing Rider, Verifying Set for Derby
Bloodhorse – America's Best Racing – Kentucky Derby at a Glance
Horse Race Insider – PROFILES OF KENTUCKY DERBY RUNNERS; CONTINUAR OUT NOW, THIRD AE KID RUSSELL TO START
This Is Horse Racing – Tom Law – Friday's Oaks Day stakes picks
Bloodhorse – Meet the Field for the 149th Kentucky Derby
Bloodhorse – Meet the Jockeys of the 2023 Kentucky Derby
Bloodhorse – Milvihill – Q & A: Johnny V On What It Takes to Win the Derby
Speed's relative.
Richard Petty
Dorth Vader, a John Ropes Florida homebred returns in the Kentucky Oaks on Friday, May 5, 2023 at Churchill Downs. The Oaks has drawn an overflow field and is one of the more competitive in recent years.  Dorth Vader is by Girvin (Tale of Ekati) out of the Yonaguska mare Hardcore Candy who was campaigned in Alberta by Darrell Landry and then Amber Buniak and Ryan McLean. Hardcore Candy won 8 races from 40 starts with 8 seconds and 4 thirds, earning $101,308. She was Stakes placed in the Freedom of the City Stakes (Black Type) at Northlands Park.
Dorth Vader gets a major upgrade in jockey to Luis Saez today.
Over at Oaklawn Park Arnold Bennewith, Rick Wiest, Clayton Wiest, Lana Wiest, Randy Howg, R6 Stables (Tim Rollingson et al), Gary Kropp and Norman Tremblay's 2022 Canadian Derby Winner Great Escape steps back up to stake company in the Lake Ouachita Stake for $150,000US on Friday May 5, 2023.  Trained by Robertino Diodoro, Francisco Arrieta will be in the saddle.
Bloodhorse – Angst – Cox Stablemates Wet Paint, Botanical to Clash in Oaks
Paulick Report – Nevills – The Haiku Handicapper Presented By FanDuel Racing: 2023 Kentucky Oaks
#1 – Mimi Kakushi
Showed grit in Meydan
Appreciate her patience
But class jump's daunting
#2 – The Alys Look
A big regression
When empty in Fair Grounds Oaks
Passing for this race
#3 – Gambling Girl
One-run deep closer
Still zeroing in her aim
Will gain placing late
#4 – Southlawn
Post-winter glow-up
But Churchill's her kryptonite
Which streak will be snapped?
#5 – Wonder Wheel
The 2-year-old champ
Has the body of a star
But her form's vanished
#6 – Botanical
Tapeta monster
Will have a say in fractions
Just not all of them
#7 – Wet Paint
Ruled over Oaklawn
Fits any profile you'd want
It all goes through her
#8 – Promiseher America
The Gazelle shocker
Getting good in a hurry
Are there more levels?
#9 – And Tell Me Nolies
Just cross out Faiza
And she could be the top pick
Keep on your radar
#10 – Flying Connection
New Mexico's best
Couldn't hack it it Del Mar
She'll be through early
#11 – Defining Purpose
Big Ashland surprise
Was getting caught in short stretch
Regression foreseen
#12 – Dorth Vader
Figures into pace
Gave it up with more distance
Doubt she'll be there late
#13 – Affirmative Lady
Blossomed at Gulfstream
Not afraid of a class jump
A viable horse
#14 – Pretty Mischievous
Got caught, gets blinkers
Bred up and down for success
A threat, if focused
#15 AE – Taxed
Wet Paint's punching bag
She'll win something nice someday
But this isn't it
#16 AE – Julia Shining
Massive pedigree
Could have been a contender
But needs too much help
#17 AE – Hoosier Philly
Remember the buzz
When folks thought she could beat colts?
Not a concern now
Prediction
Nothing too splashy
Wet Paint's the best of her class
Fourteen, nine follow
Southern Living – Cribb – The Difference Between the Kentucky Derby Hat and Fascinator
Esquire – Daley – My Old Myopic Kentucky Home
Garden and Gun – Henderson – Racetrack Pie
Garden and Gun – Henderson – How to Make the Triple Crown Cocktails (with a Few Twists)
America's Best Racing – Big-Race Showdown: Expert Picks for Kentucky Oaks, Kentucky Derby
DRF – Hersh – Kentucky Derby: Team Illinois takes a shot with the horse nobody wanted – Two Phil's
TDN – Petrunyak – Two Phil's Carries the Flag for His Chicago Home Team
Bloodhorse – McCroskey – Connections of Two Phil's Keep it Easy Until Derby Day
Bloodhorse – Joe Perez –  Family at the Core of Rivelli's First Kentucky Derby
Chicago Sun Times – Patrick Finley – Bears seek permit to begin demolition of Arlington International Racecourse
Bloodhorse – Eric Mitchell – Assessing Kentucky Derby Contenders by Final Works
Brisnet – Hanson – Grade 1 winners clash in Modesty; Caravel imposing in Unbridled Sidney
Horse Race Insider – Pricci – UPDATE 3: SKINNY ON ALL OAKS FILLIES; PICK 5 GRID (FIRST THREE STAKES POSTED), VALUE PLAYS
Bloodhorse – McCroskey – Major Dude Bypasses KY Derby, Reroutes to American Turf
When I first started racing, my father, one of the first things he said, he said, "Win the race as slow as you can."
Richard Petty
TDN – Thornton – Federal Judge Rules HISA Constitutional After Law's Rewrite
SportsNet – Fox – 'Baffling': Maple Leafs blow lead, lose Knies to pesky Panthers in Game 2
Phil has a question:
If the Leafs are putting all their hopes on the college kid to lead them out of the playoff desert what kind of a team do they have.
SportsNet – Public Enemy No. 1: Maple Leafs displeased with Panthers' Bennett after Game 2
TSN – Bennett embracing the 'villain' roll; will he see further discipline for Game 2 antics?
SportsNet – Panthers' Bennett fined for cross-check on Maple Leafs' Bunting
Phil has a question:
If that was a Canadian teams' player how many games would he have received for a cross-check to the head and a second cross check when the player was down.
Time to get rid of the US biased asshole Bettman.  (You can fill in the profanities that Phil left out, but be careful cuz some of them may get you kicked out of a baseball game.)
Having the Turtle in their heads was bad enough for the Leafs now they have to worry about the Turtle and Bennett fighting for space in their heads. The Leafs are gonna need some powerful shampoo to dig themselves out of a 2 game hole heading to Florida.
Gonna Wash That Man Right Out of My Hair
If you find yourself in a hole, the first thing to do is stop digging.
Cowboy Wisdom
The Leafs and the TO media need to turn the tables on the Panthers and instead of worrying about the Turtle and Bennett they need to make the Panthers worry about Marner and Matthews.
The Leafs need to start playing like alley cats.
The Ringer – Pina – The Nuggets Are No Longer a Joke When Nikola Jokic Sits
FiveThirtyEight – Kaleigh Rogers – New England States Are Exonerating Colonial-Era Witches — But Not Everyone Is On Board
First Witch
When shall we three meet again?
In thunder, lightning, or in rain?
Second Witch
When the hurly-burly's done,
When the battle's lost and won.
Third Witch
That will be ere the set of sun.
First Witch
Where the place?
Second Witch
Upon the heath.
Third Witch
There to meet with Macbeth.
Thoroughbred Racing Commentary – Lees – 'Kentucky Derby has always been a bucket list item for me' – sports presenter Joy Taylor enjoys the ride with Jace's Road
TDN – Friday Insights: Baffert Debuts $700k Nyquist Colt At Santa Anita
The Athletic – O'Neil – A world away from Kentucky Derby glory, Secretariat's forgotten daughter found a bright future
Los Angeles Times – Plaschke – Column: LeBron James and Anthony Davis face a harsh reality after Lakers' Game 2 loss
The Ringer – Princiotti – Seven Big Questions for NFL Teams After the Draft
---
Kentucky Derby
| | | | | |
| --- | --- | --- | --- | --- |
| PP | Horse | Trainer | Jockey | Odds |
| 1 | Hit Show | Brad H Cox | Manuel Franco | 30 – 1 |
| 2 | Verifying | Brad H Cox | Tyler Gaffalione | 15 – 1 |
| 3 | Two Phil's | Larry Rivelli | Jareth  Loveberry | 12 – 1 |
| 4 | Confidence Game | Keith Desormeaux | James Graham | 20 – 1 |
| 5 | Tapit Trice | Todd Pletcher | Luiz Saez | 5 – 1 |
| 6 | Kingsbarns | Todd Pletcher | Jose Ortiz | 12 – 1 |
| 7 | Reincarnate | Tim Yakten | John R Velazquez | 50 – 1 |
| 8 | Mage | Gustavo Delgado | Javier Castellano | 15 – 1 |
| 9 | Skinner | John Shireffs | Juan Hernandez | 20 – 1 |
| 10 | Practical Move | Tim Yakteen | Ramon Vasquez | 10 – 1 |
| 11 | Disarm | Steve Assmussen | Joel Rosario | 30 -1 |
| 12 | Jace's Road | Brad H Cox | Florent Geroux | 15 – 1 |
| 13 | Sun Thunder | Ken McPeek | Brian Hernandez Jr. | 30 – 1 |
| 14 | Angel of Empire | Brad H Cox | Flavien Prat | 8 – 1 |
| 15 | Forte | Todd Pletcher | Irad Ortiz Jr. | 3 – 1 |
| 16 | Raise Cain | Ben Colebrook | Gerado Corrales | 50 – 1 |
| 17 | Derma Sotogake (JPN) | Hidetaka Otonashi | Christophe Lemaire | 10 – 1 |
| 18 | Rocket Can | William Mott | Junior Alvarado | 15 – 1 |
| 19 | Lord Miles | Joseph A Saffie Jr. | Paco Lopez | 15 – 1 |
| 20 | Continuar | Yoshito Yahagi | Ryusei Sakai | 50 – 1 |
| 21 | Cyclone Mischief | Dale Romans | Joel Rosario | 30 – 1 |
| 22 | Mandarin Hero | Terunobu Fujita | Kazushi Kimura | 20 – 1 |
| 23 | King Russell | Ron Moquett | Rafael Bejarano | 50 – 1 |
---
America's Best Racing – Curry – A Beginner's Guide to the Kentucky Derby
John Jeremiah Sullivan – Horseman Pass By_(Secretariat)
Kentucky Derby is Decadent and Depraved – Hunter_S_Thompson
Brisnet – Get to know the 2023 Kentucky Derby contenders
---
Saturday, May 6, 2023
Friday, May 5, 2023
---
Vote early and vote often. 
Al Capone
---
2023 Preakness 148 Saturday May 20, 2023
DRF – Russo – Some Kentucky Derby hopefuls now setting their sights on Preakness
TDN – Preakness 148 Offers Limited Edition Ale
---
2023 Belmont Stakes  Saturday June 10, 2023
---
---
One interesting pedigree note this year is a possible exacta box with Forte and Two Phil's, and this may hit an emotional note more than a scientific one.  Forte's maternal grandsire Blame and Two Phil's' maternal great-grandsire Birdstone are both stamina-heavy stallions who probably caused more grief to racing fans than any horses in memory. To this day there still are tens of thousands of fans who refuse to watch Blame's Breeders' Cup Classic victory over their beloved Zenyatta, who was only inches from a 20-race undefeated career, and Birdstone's Belmont Stakes victory over Smarty Jones, one of the most popular horses ever who was only yards away from being an undefeated Triple Crown winner, but was basically ganged up on by the jockeys of his main opponents. This is a totally believable exacta that would finally give these two horses (Birdstone is now actually pensioned) some well-deserved positive press.
Speaking of Two Phil's, for those who feel his sire Hard Spun might be compromised at 10 furlongs, Hard Spun's dam is by Turkoman, who ran one of the fastest Marlboro Cups ever and placed in the Breeders' Cup Classic, Jockey Club Gold Cup, and Travers, out of a half-sister to Belmont and Preakness winner Little Current, by English Derby winner Roberto.
Haskin's Derby Rankings – Will Forte or the Gray Make Pletcher's Day?
Haskin's Derby Rankings: How to Find a Derby Winner… With Your Eyes
Bloodhorse – Byron King's Derby Dozen for May 3
TDN – Thornton – TDN Derby Top 20: Cadence Quickens, Plot Thickens
XBTV – Jeff Siegel's Kentucky Derby Deluxe Dozen (updated 4/14/23)
Paulick Report – Champagne – The Derby Bubble Presented By Kentucky-Breds: Playing 'Good Trip, Bad Trip' With The 2023 Field
Horse Racing Nation – Kentucky Derby 2023 Contenders
Horse Racing Nation – Shifman – Kentucky Derby 2023: Early full-field odds and analysis
---
---

Join us on Friday, May 5th, at Century Mile Racetrack and Casino. Book your tickets before April 28th.
Contact CTHS office at 403-229-3609 or visit www.cthsalta.com for tickets and more information.
---
Phil M Stockmen