2023 Preakness 148 Saturday May 20, 2023
TDN – Two Phil's to Skip Preakness
Bloodhorse – Angst – Forte Placed on Vet's List, Will Miss Preakness Stakes
TDN – Mage Team Enjoying Derby Win, Eyeing Preakness
Bloodhorse – Byron King and Rollins – Mage, Forte Showdown Could Take Place in Preakness
Paulick Report – Preakness 148: Showdown Could Be Brewing Between Mage, Forte
TDN – Preakness 148 Offers Limited Edition Ale
---
2023 Belmont Stakes  Saturday June 10, 2023
---
Vote early and vote often. 
Al Capone
---
Don't cry because it's over. Smile because it happened.
Dr. Seuss
Some times Phil just has to give in to the Urge.
Southern Living – Al-Hatlani – Our Favorite Mother's Day Menu Ideas Of All Time
Bon Appetit – Mothers' Day Central
Gayot – Smits – The 12 Best Mother's Day Wines in 2023
Bob Appetit – Sevier – 53 Mother's Day Brunch Ideas Better Than Any Bargain Bouquet
Forbes – Denby – The 20 Best Mother's Day Wine Gifts To Toast The Special Day
Bon Appetit – Mack – Sommelier Tests 10 Wine Gadgets
Phil has a question:
How many mothers would prefer a gadget to wine.
Some times Phil just has to give in to the Urge.
On TV the people can see it. On radio you've got to create it.
Bob Uecker
Phil has a question:
If we can see it on TV why do we need so many condescending asshole commentators to explain what they just thought they saw.
Who are you going to believe, me, or your lying eyes?
Groucho Marx
Front Office Sports – Cohen – Investment App Commonwealth Hits Big With Mage's Kentucky Derby Win
This is Horse Racing – Tom Law – Lessons Learned: Mage upsets 149th Kentucky Derby
Sports Business Journal – Kentucky Derby viewership down 8% from 2022
Front Office Sports – Cohen – NBC's Kentucky Derby Ratings Dip Below Last Year's Mark
Bloodhorse – KY Derby Most Watched Sports Event Since Super Bowl
Bloodhorse – Ehalt – Forte Scratch Negatively Impacts Japan Handle on Derby
Garden and Gun – Dazzling Hats and More at Churchill Downs
The Athletic – McIndoe – NHL Draft Lottery power rankings: Conspiracies, comedy and chaos for Connor Bedard
Bloodhorse – America's Best Racing – Pedulla – Five Key Kentucky Derby Takeaways
WLKY – Mathews – Kentucky Derby horse Mage raising awareness for cancer
Paulick Report – Kentucky Derby Follow-Up: Mage Could Be Preakness Bound; Plans TBD For Runner-Up Two Phil's
TSN – Maple Leafs turn all attention to Game 4: 'Got to win one game'
SportsNet – Luke Fox – Maple Leafs stars fall silent with season on brink: 'It's do or die now'
Los Angeles Times – Granderson – Column: With each horrific shooting, Texas' governor looks more inept
TDN – Lucinda Finley Q&A: HISA Critics Throwing `Everything" Until Something "Sticks'
TDN – Bill Finley – The Week in Review: Sure, the Derby Had Its Moments, but this was a Really Bad Day
For eons thoroughbred racing has been shunted to the back pages of the sports section when it makes the cut and then when it finally makes the front page it's for all the wrong reasons – the deaths of 7 horses during Kentucky Derby week including 2 that broke down on national TV on Kentucky Derby Day. As least Wile E. always knew there was an anvil dropping.
Bloodhorse – Rollins – Four-Way Partnership is Nothing Short of Magic in Derby
Sports Business Journal – Bacharach – Omaha Productions heads into new territory with story of Rich Strike trainer
Front Office Sports – Ed DeRosa – Bob Baffert Is Still Winning, Even In Year 2 of Kentucky Derby Ban
Sports Business Journal – New experiences in store for F1 Miami
Phil has a question:
Does anyone in Alberta racing understand that the paddock isn't just an afterthought.
What was the most popular gathering place at Stampede Park.
Without music to decorate it, time is just a bunch of boring production deadlines or dates by which bills must be paid.
Frank Zappa
TDN – Chaldean Gives Frankel His Guineas Winner On Frankie Finale
Bloodhorse – Racing Post – Porteous – Dettori Conquers Final Two Thousand Guineas
Maybe I'm overly optimistic, but Shake Shack's old-school veggie burger, unshackled from imitation meat, makes me hopeful that the tides may be changing. Perhaps brands will stop mercilessly courting carnivorous consumers who never actually expressed interest in meatless alternatives in the first place. It's due time we embrace the veg, not mask it.
Bon Appetit – Goldstein – Shake Shack's New Veggie Burger Is Actually Good
I was born in a suit. 
Leonard Cohen
Study Finds – McDaniel – Best Baseball Movies: Top 5 Sports Flicks Most Recommended By Fans
Sporting goods companies pay me not to endorse their products. 
Bob Uecker
Federal Judge Rules HISA Constitutional After Law's Rewrite
Nothing will work unless you do.
John Wooden
Horse Race Insider – Pricci – THE TRIUMPH AND TRAGEDY OF BITTERSWEET DERBY 149
Bloodhorse – Joe Perez – Equine Deaths Mar Lead-Up to Kentucky Derby
Paulick Report – Here's How Mainstream Media Are Covering Equine Deaths On Kentucky Derby Week
Phil has a question:
How many more body blows can thoroughbred racing withstand.
TSN – 'When you wanna f*** around, sometimes you gotta find out': Kane on physical Game 2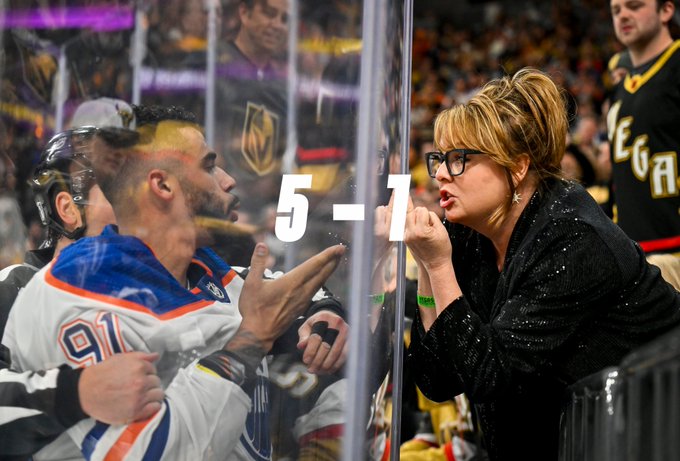 YardBarker – Santa Barbara – Oilers' Evander Kane could hear from NHL following unruly scrap vs. Vegas
Phil has a question:
How many sports media outlets are hoping for a Kane – Turtle Stanley Cup Final series.
I'm so fast that last night I turned off the light switch in my hotel room and was in bed before the room was dark. 
Muhammad Ali
Sports Business Journal – Horse deaths investigation looms over Kentucky Derby
ESPN – Two horses die due to racing injuries before Kentucky Derby
The Guardian – Banicki – What do horses feel at the Kentucky Derby? Mostly fear and pain
Sports Illustrated – Forde – 'The Lowest of the Lows': The Drama That Has Clouded Derby Week
Front Office Sports – Cohen – Kentucky Derby Field Drops to 18; Seventh Horse Dies at Churchill Downs
The Spun – Audilet – PETA Releases Statement On Kentucky Derby Horse Deaths
Paulick Report – Churchill Downs Inc., HISA Issue Statements On Horse Deaths
Thoroughbred Racing Commentary – Stephanie Hronis: It's all hands on deck right now – we have to work together and support each other
CGA – Great Canadian's Pickering Casino Resort officially opens with 2,200 slot machines
Curiosity – Bryan Adams to perform at new casino resort near Toronto next month
Have You Ever Really Loved a Woman
ESPN – Purdum – Alabama fires baseball coach Brad Bohannon amid betting probe
My responsibility is leadership, and the minute I get negative, that is going to have an influence on my team.
Don Shula
Sports Business Journal – Bill King – SBJ Betting: Alabama fiasco highlights need for more transparency
The good news for teams, leagues and the betting industry is that since the bets were placed in a legal state, they were visible to U.S. Integrity, which works on behalf of regulators and, in this case, the SEC (the conference signed on with U.S. Integrity in July 2018).
The bad news for horse racing is that the tracks give the inside information to the CAWs who place wagers larger than Average Joe later than Average Joe through means not available to Average Joe and then receive a rebate that Average Joe doesn't. The bad news for horse racing is that while the sportsbooks and casinos will protect their own money the tracks and ADWs give the CAWs inside information, allow them to make larger wagers through means not available to others and then give them a rebate since the CAWs are milking the parimutuel pools filled with other bettors' money and not affecting the returns to the tracks and ADWs.
Phil has a question:
With sportsbooks offering more and more wagering opportunities with lower takeout and protecting the bettors from illegal activity rather than encouraging it how can horse racing compete for the sports betting dollar. Yes, there will be occasional blips like this weekend's Oaks and Derby days, but the competition for sports betting will become tougher in the next few years and far too many of the powers that bee in horse racing still act like it's the only game in town.
Phil has a question:
Do you think that anyone at Horse Racing Alberta would understand what Phil just wrote.
Lithub – Russell – How Horseback Riding Helped Barbara Stanwyck Rise Above Hollywood Misogyny
You've Lost That Loving Feeling
The Hustle – Berkley – DraftKings versus FanDuel — Who are you betting on?
There are worse crimes than burning books. One of them is not reading them.
Ray Bradbury
Bloodhorse – Ehalt – Dutrow Wins in First Race Since 10-Year Suspension
TDN – Dutrow Wins First Start Back of Return
I went to see President Nixon at the White House. It wasn't difficult to get a meeting because I was heavyweight champion of the world. So I came to Washington and walked around the garden with Nixon, his wife and daughter. I said: I want you to give Ali his licence back. I want to beat him up for you. 
Joe Frazier
Bloodhorse – Gregory A Hall – Churchill Reports Record Kentucky Derby Day Wagering
TDN – Record All-Sources Wagering For Derby 149
Paulick Report – Record $288.7 Million Bet On Derby Day Card; 150,335 On Hand At Churchill Downs
ESPN – AP – Mage overtakes Two Phil's down stretch, wins Kentucky Derby
Los Angeles Times – Cherwa – Underdog Mage rallies to win 149th Kentucky Derby marked by lineup turmoil
Out of the Big Brown mare Puca, Mage was bred in Kentucky by Grandview Equine. He was purchased for $290,000 by OGMA Investments from the Sequel Bloodstock consignment at the Fasig-Tipton Midlantic 2-Year-Olds in Training Sale.
Sports Illustrated – Forde – Mage's Kentucky Derby Victory Provides Thrilling End to Tragic Week at Churchill Downs
Bloodhorse – Byron King – Mage Rallies to Thrilling Kentucky Derby Victory
Phil has a question:
Which win was Dutrow celebrating more – Prince of Pharoahs at Belmont or Big Brown, Dutrow's Kentucky Derby Winner, being the broodmare sire of Mage.
TDN – Good Magic's Mage Gives Castellano First Derby
DRF – Hersh – Mage runs down Two Phil's in stretch for Kentucky Derby victory
Paulick Report – Hackbarth – 'Little Horse With A Big Heart': Mage Provides The Magic In Kentucky Derby 149
YardBarker – Larry Brown – Columnist argues Mage deserves asterisk for Kentucky Derby win
A good coach will make his players see what they can be rather than what they are.
Ara Parseghian
Paulick Report – Explanations And Excuses: 2023 Kentucky Derby Connections React In The Race's Aftermath
TDN – Consolation For Forte Connections as Up to the Mark Impresses in Turf Classic
Bloodhorse – Angst – Up to the Mark Rallies to Win Turf Classic
TDN – Carasso – Cody's Wish Picks Up Right Where He Left Off
Bloodhorse – Gregory A Hall – Cody's Wish Easy Winner of Churchill Downs Stakes
Paulick Report – Cody's Wish Keeps Writing His Fairy Tale With Churchill Downs Stakes Win, Rival Is Vanned Off
TDN – Constitution's Webslinger Upsets American Turf
Bloodhorse – Mulvihill – Nobals Bounds Gate to Wire In Twin Spires Turf Sprint
Bloodhorse – Angst – Kumin's Fluffy Socks Takes Churchill Distaff Turf Mile
Bloodhorse – Rollins – Matareya Wins Derby City Distaff; Goodnight Olive Third
TDN – Federal Judge Drops The Hammer On Extra Anejo To Open Derby Card
I found out that if you are going to win games, you had better be ready to adapt.
Scotty Bowman
The Conversation – Farah – Americans might love Cinco de Mayo, but few know what they're celebrating
TDN – Oaks Day 149 Sets Handle Record
TDN – No Immediate Plans For Pretty Mischievous Following Oaks
Paulick Report – 'Like Something From A Fairytale Story': Pretty Mischievous Adds Blinkers To Prevail In Kentucky Oaks
Bloodhorse – Pretty Mischievous Scores First Oaks for Godolphin
TDN – Sherack – Into Mischief Filly Gets First Oaks Win for Walsh, Godolphin and Gaffalione
Bloodhorse – Muvihill – Played Hard Turns Back Secret Oath in La Troienne
Bloodhorse – Joe Perez – Seventh Heaven: Didia's Late Surge Captures Modesty
Bloodhorse – Gregory A Hall – Caravel Royal Ascot Bound After Unbridled Sidney Score
TDN – Oscar Performance Filly Takes the 'Gold' in Eight Belles
Bloodhorse – Red Carpet Ready Defeats Munnys Gold in Eight Belles
Bloodhorse – Byron King – Smile Happy Proves the Alpha Male in Alysheba
TDN – Sherack – Runhappy's Smile Happy Upsets Alysheba
Brisnet – Hanson – Smile Happy gets his way with Alysheba upset
Phil has a question:
Did the Smile on Mattress Mack's face stretch from ear to ear.
ESPN – Wyshynski – Gallant out as coach of Rangers after first-round elimination
Coaches have to watch for what they don't want to see and listen for what they don't want to hear.
John Madden
The Athletic – Goldman – Why the NHL keeps recycling coaches and why it's a problem
The Star – Leavitt – Canada marks coronation of King Charles III with little pomp but no less warmth
Pomp and Circumstance March No. 1
Sports Illustrated – Baumann – With the Michigan Move, Hockey Is Breaking Into a New Dimension
When Phil watched the first few lacrosse style goals he thought they were just hotdogging, but if the goalies want to flip and flop on the ice to cut off the bottom of the net more power to the shooters for finding a new way to score that will force the fish to stand up in the net to defend against the high shots increasing scoring opportunities overall.
Southern Living – Yarborough – 40 Special Southern Recipes To Make With Your Mama For Mother's Day
SportsNet – Fox – Game 3 Notebook: Desperate Maple Leafs make changes on the road
Phil has a question:
If the Leafs lose this series will the TO fans have the guts to hang Fox in effigy from that big spike in the ground.
Phil will be reducing the frequency and content of posts post Kentucky Derby and will further reduce the frequency post Belmont Stakes.
---
Phil M Stockmen