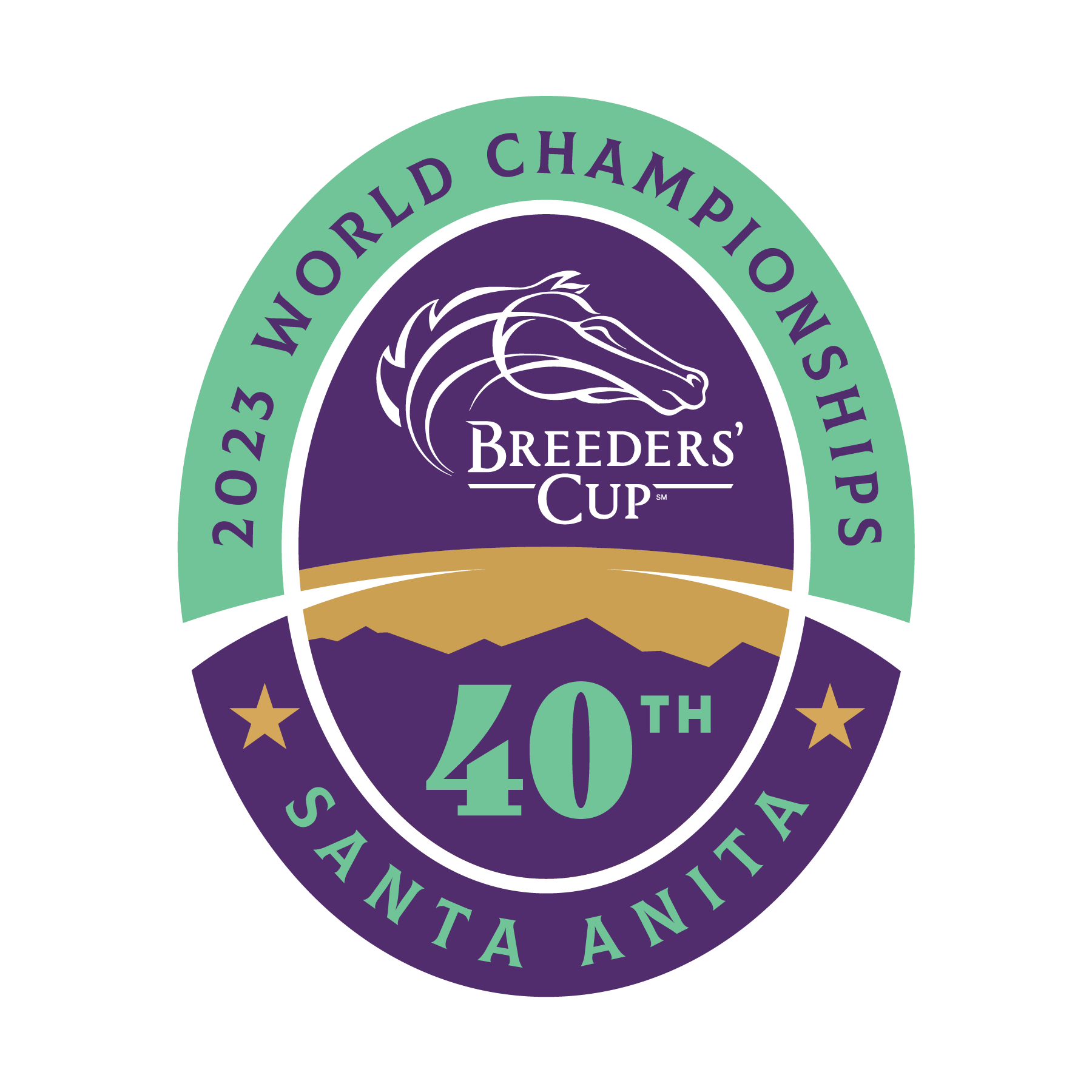 Breeders Cup Races
MMXXIII Breeders' Cup XL – Pre- Entries
Equibase – MMXXIII Breeders' Cup XL Pre-Entries
Bloodhorse – Breeders' Cup Releases Race Order, Post Times, Wagers
Breeders' Cup Announces 2023 Broadcast Schedule
America's Best Racing – Patrick Reed – Ten Interesting Facts About the 2023 Breeders' Cup World Championships
---
America's Best Racing – Beginner's Guide to the Breeders' Cup World Championships
America's Best Racing – Patrick Reed – 2023 Breeders' Cup Classic Cheat Sheet: Get to Know the Horses
---
America's Best Racing – Patrick Reed – 2023 Breeders' Cup Travel Guide: Where to Go and What to Do in the Arcadia-Pasadena Area
Bloodhorse – Beyond the Headlines: Breeders' Cup Celebrates 40 Years
Study Finds – Meaghan Babaker – Best Bourbon: Top 5 Bottles Most Recommended By Experts 
America's Best Racing – Patrick Reed – Forty Years of Breeders' Cup Pop Culture: Then vs. Now
America's Best Racing – Mike Currie – ABR's Guide to Throwing an Amazing Breeders' Cup Watch Party
America's Best Racing – Dan Tordjman – Foodie Guide to the Breeders' Cup: Can't-Miss Eats at Santa Anita Park
Eater – 19 Saucy Pizza Spots to Love Around Los Angeles
America's Best Racing – Dan Tordjman – Chatting With Mixologist Mark Tubridy on Creating and Preparing Official Breeders' Cup Cocktails
Time-Out – Best Dive Bars in Los Angeles
America's Best Racing – Rachel Miller – Embracing Equestrian Elegance: Carson Kressley's Seven Fashion Dos and Don'ts for the Breeders' Cup
---
Amplify Horse Racing Launches New Website, Including Job Board
---
Pierre Esquirol's homebred Jeff Fa Fa makes a jump in class in this Friday's Bold Ruler GIII going furlongs for $200,000US at the Belmont at Big A meet at Aqueduct. Manitoba born Rob Atras will handle the training duties with Kendrick Carmouche in the saddle.
After the Wire – Keith McCalmont – Jeff Fa Fa Will Try to Run Run Far Far in G3 Bold Ruler
---
By the pricking of my thumbs,
Something wicked this way comes.
Witch Two
Los Angeles Times – Lorraine Ali – Is the real world not scary enough? Try these new horror and thriller series instead
Q. Why doesn't Frankenstein dance?
A. He's got two left feet.
The Science of Scare: The scariest movies of all time
I'll stop wearing black when they make a darker color.
Wednesday Addams
Study Finds – Jilly Hite – Best Horror Films: Top 5 Scary Movies Of All Time, According To Experts
There is no terror in the bang, only in the anticipation of it. 
Alfred Hitchcock
The Kitchn – MacKenzie Filson –  The 15 Best Halloween Candies, Ranked
Bon Appetit – Babish Picks Best Halloween Candy
Q: Why do witches wear name tags?
A: To tell which witch is which.
With almost all of the Halloween couples going as either Barbie and Ken or Taylor and Travis Phil was going to recommend Golda and Moshe. But with the Hamas and Israelis involved in a sequel to the Golda movie Phil's not sure if those costumes would be in good taste.
I have only one eye. Do you want me to look at the road or at the speedometer.
Moshe Dayan
Instyle – Drew Elovitz – 21 Clever 2023 Halloween Costume Ideas You Can Pull Off
Instyle – Julia Guerra – 22 Genius Couples Halloween Costumes to Wear in 2023
Phil has a question:
Q. What is a vampire's favourite fruit.
A. A blood orange.
You look a lot like the mummy of the year
Bat to the bone.
Time – Cady Lang – What Is Samhain? What to Know About the Ancient Pagan Festival That Came Before Halloween
Q: Why did the angry witch leave her broom at home?
A: She didn't want to fly off the handle.
Made for Mums – Janet Ktima – 35 of the best Halloween costumes for babies, toddlers and kids
I always liked strange characters.
Tim Burton
Q. How do you repair a broken jack o' lantern?
A. With a pumpkin patch.
The Atlantic – Samira Kawash – How Candy and Halloween Became Best Friends
Q. Why did the ghost go to the bar?
A. To get some boos.
Garden and Gun – Ron Rash's Ghostly Inspirations
Q. How do you calculate the circumference of a pumpkin?
A. With pi.
The Bitter Southerner – Tom Maxwell – We Salted Nannie
Knock, Knock!
Who's there?
Witch.
Witch who?
Witch one of you has the candy?
I'd say the first thing you need is… a pumpkin.
Fairy Godmother
History – How Jack O'Lanterns Originated in Irish Myth
Anyone could see that the wind was a special wind this night, and the darkness took on a special feel because it was All Hallows' Eve.
Ray Bradbury
Irish Times – Jessica Traynor – The story of Jack-o'-lantern: 'If you knew the sufferings of that forsaken craythur'
Q: What do witches study in school?
A: Spelling.
Study Finds – Best Halloween Songs: Top 5 Frightful Tunes Most Recommended By Experts
Q:Where do witches park?
A: In the broom closet.
Q:Where do spiders do their Halloween shopping?
A: On the web.
Southern Living – Amy Bickers Abeyta – 34 Halloween Pumpkin Carving Ideas
Q: Who's in charge of the candy corn?
A: The colonel.
Slate – Heather Schwedel – When Did This Time of Year Become "Spooky Season"?
Q:What do witches put on to go trick or treating?
A: Mas-scare-a.
CNN – Marianna Cerini – From pagan spirits to Wonder Woman: A brief history of the Halloween costume
Q: What did one piece of hard candy say to the other after it helped it escape from being eaten?
A: "Thanks! You're a real lifesaver."
Garden and Gun – Danielle Wallace – Six Ways to Repurpose Leftover Pumpkins 
---
Covers -Geoff Zochodne –  Documents Show Sports Betting-Related Uncertainty for Canada's Horse Racing Sector
Most telling about horse racing's uncertain future is that there is no menu button for horse racing on Covers.
Phil has a question:
Would any of the minions at Horse Racing Alberta have the slightest clue about Zochodne is saying.
Do the minions at Horse Racing Alberta think that gazing out a window and cashing their paycheques is a solution to the problems that Zochodne is outlining.
Can you hear the scurrying.
---
Global News – Jasmine King – First stage of demolition begins at Edmonton's Exhibition Lands
Phil's dedicating this one to Tim Reid.
---
Paulick Report – Ray Paulick – View From The Eighth Pole: In Horse Racing, Change Never Comes Easy
When the winds of change blow, some people build walls and others build windmills.
Chinese proverb
When the winds of change blow, some people build walls and others build windmills and some keep gazing out their windows.

Phil's Updated Chinese proverb
---
Life is too short to be serious all the time, so if you can't laugh at yourself then call me… I'll laugh at you, for you.
Donald Duck
Sports Illustrated – Patrick Andres – Dusty Baker to Retire as Astros Manager, Wants to Remain Involved in Baseball
Sports Illustrated – Patrick Andres – Browns' Deshaun Watson Explains Early Exit From Colts Game, Shoulder Injury Situation
Phil has a question:
Does Deshaun need a couple of masseuses to work on his shoulder.
Bon Appetit – Rick Lewis – 37 Christmas Cakes That Shine Brighter Than the Tree
Phil has a question:
Does anyone make figgy pudding any more.
What is figgy pudding.
33 Best Christmas Pies to Bring to the Holiday Dessert Table
Classic Peach Pie From Canned Peaches
Sometimes Phil just gotta give in to the Urge.
SportsNet – Elliotte Friedman – Senators' Pinto suspended 41 games for violating NHL gambling rules
With the Street Sense being added to the Road to the Kentucky Derby series for the first time this year, the field has come up stronger than usual. The respective top five finishers on Sunday will earn 2024 Kentucky Derby qualifying points of 10-5-3-2-1.
Brisnet – Vance Hanson – Street Sense, Rags to Riches highlight Churchill Downs opener
Bloodhorse – Byron King – CDI's Third-Quarter Net Income Rises 7% to $61 Million
Front Office Sports – Eric Fisher – Number Of Cities Vying For New Bears Stadium Hits Seven
Bloodhorse – Jim Mulvihill – Arcangelo Sharp in Final Breeze for BC Classic
Paulick Report – Willman – Here's Frankie! Legendary Dettori Back At Santa Anita For Saturday's Lure Stakes
Thoroughbred Racing Commentary – What's been happening: Frankie Dettori whip ban, Breeders' Cup pre-entries, world #1 Equinox and more …
Paulick Report – HIWU Weekly Update: Pimental Withdraws Admission Of Guilt, Pro Bono Lawyer Panel In Development
TDN – T.D. Thornton – Pimentals, Overwhelmed by Support, Get Help to Proceed to HIWU Hearing
Phil has a question:
Does Lisa Lazarus read Joe McCarthy bedtime stories.
The Ringer – Katie Baker – Absorber in the Court: What We've Learned From the SBF Trial's Cast of Characters
Paulick Report – Natalie Voss – Trainers Say They've Historically Been Left Out Of Necropsy Review Findings In New York
TDN – Jessica Martini – $725K Justify Colt Vaults to the Top as Action Heats up at Fasig-Tipton October Sale
Paulick Report – Justify Colt Lights Up Third Session Of Fasig-Tipton Kentucky October Yearling Sale
TDN – Chancey to Chair ARCI Drug Testing Committee
SportsNet – Michael Grange – Rajakovic era off to successful start as Raptors hold off Timberwolves
The Toronto fans were in the Halloween spirit as Phil noticed a few hundred of them in their empty seat costumes.
Sports Business Journal – Despite recent contract extension, NFL owners eyeing post-Goodell NFL succession plan
Phil has a question:
When will the NHL owners move into the 20th century and implement post-Bettman plans.
Sports Illustrated – Daniel Chavkin – The NBA All-Star Game Is Reverting to Its Old Format and Fan Reviews Are Mixed
Horse Race Insider – John Pricci – 205 HORSES PRE-ENTERED FOR BREEDERS' CUP XL ATTRACTS 59 INTERNATIONAL CONTENDERS
Bloodhorse – Frank Angst – Horsemen Show Strong Interest in 2023 Breeders' Cup
Study Finds – Music & medicine: Listening to your favorite songs can reduce pain
Los Angeles Times – Frances Bean Cobain marries Riley Hawk in ceremony officiated by R.E.M. frontman Michael Stipe
Bloodhorse – Alan Porter – Analyzing Champions Day Stars Big Rock, King of Steel
The Bitter Southerner – Tom Maxwell – We Salted Nannie
Bloodhorse – Lauren Gash – Pair of $500,000 Colts Top Day 2 at Fasig-Tipton Sale
ESPN – Jeff Passan – D-backs top Phillies in Game 7, make 1st World Series since '01
Thoroughbred Racing Commentary – 'The Breeders' Cup puts equine safety first and foremost' – Q+A with Drew Fleming
TDN – Breeders' Cup Veterinary Team Conducts Enhanced Pre-Screening
TDN – Letter to the Editor: HISA's CEO Lisa Lazarus Issues Response to Pimental Article
Phil has a question:
Wasn't the appropriate response for Lisa Lazarus to hand in her resignation.
Does Lisa Lazarus' response really say anything and inspire you to have confidence in her abilities.
Paulick Report – Kentucky Horse Council: Who Will Care For Your Horse When You Can't?
The Ringer – Nora Princiotti – What Is Going On With Deshaun Watson and the Cleveland Browns?
Phil has a question:
What did the Browns expect from a guy that had so many massage appointments.
The Ringer – Adam Nayman – In 'Killers of the Flower Moon,' No One Is Spared
Sports Illustrated – Pat Forde – Michigan's Dream Season Faces Scrutiny As Sign-Stealing Plot Thickens
ESPN – Alex Scarborough and Adam Rittenburg – What college football coaches are saying about sign stealing
Phil has a question:
When Bill retires will he open the Bill Belichek School of Sports Espionage.
SportsNet – AP – Rangers blow out Astros in Game 7 to win AL pennant, spot in 2023 World Series
ESPN – Alden Gonzalez – MVP Adolis Garcia, Rangers dethrone Astros to win ALCS
ESPN – Jeff Passan – MLB Playoffs 2023: How this October delivered two Game 7s
Phil has a question:
Who's whining about the MLB playoff structure now.
Sports Business Journal – John Ourand – Rangers-Astros ALCS finale is 'found money' for Fox Sports
Sports Illustrated – Jelani Scott – Astros Manager Dusty Baker Eyeing Retirement, Plans for 2023 Season to Be His Last, per Report
Front Office Sports – A.J. Perez – The Fight to Guarantee NBA Broadcasts Amid Continuing RSN Uncertainty
Paulick Report – 'A Humbling Tribute': Frankie Dettori Statue Unveiled At Ascot Racecourse
Bloodhorse – Canterbury Begins Construction of Three 108-Stall Barns
Paulick Report – Ray Paulick – HISA Looking Into Slow Response Time To Treat Injured Jockey At Remington Park
Garden and Gun – Ron Rash's Ghostly Inspirations
Southern Living – Kaitlyn Yarborough – Our Favorite Fall Side Dishes That Belong At Your Next Potluck
TDN – Classic Contenders Arabian Knight, White Abarrio Headline Breeders' Cup Works
Horse Race Insider – John Pricci – FIFTY-ONE FOREIGN INVADERS UNDERSCORES BREEDERS' CUP XL AS A TRUE WORLD CLASS EVENT
Thoroughbred Racing Commentary – Nicholas Godfrey – 'What a horse!' – Big Rock joins world top ten with wide-margin Ascot triumph
Canada's National Observer – Julian Bahati Axmann – Time to torch old approaches to forestry and fire
Bloodhorse – Lauren Gash – Typical Market on Day 1 of Kentucky October Sale
TDN – Jessica Martini – $500k Justify Colt Paces 'Solid' Fasig-Tipton October Opener
TDN – OwnerView Accepting New Owner of the Year Nominations
Bloodhorse – Weatherbys Reports Breeding Stats for England, Ireland
---
Phil M Stockmen